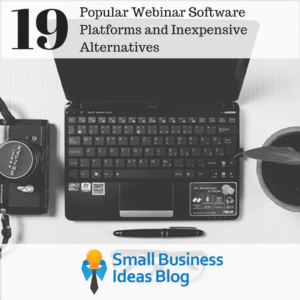 According to a poll by E-marketer, webinars are one of the 3 most effective content marketing tactics for generating leads, along with video marketing and case studies. With webinars, you can interact with and engage your prospects more directly than with blog articles and other content, making a good platform for building engagement and selling.
Although there are many webinar software options, the quality and ability of these platforms varies greatly when it comes to reliability and being able to handle large audiences.
I've compiled a list of webinar software programs and here are some choices that you might want to consider.
1. GoToWebinar by GoToMeeting
https://www.gotomeeting.com/webinar
Cost: Starting at $89 / month for up to 100 participants
GoToWebinar is one of the most popular webinar solutions and one of the most reliable, although a bit more costly than other solutions. One of the downsides is that your viewers will have to download their software to watch the webinar as they do not have a web-based interface. If you are hosting small webinars with less than 100 participants, then check out GoToMeeting instead, which is less expensive.
2. Easy Webinar
Cost: $397 per year for unlimited license (comes out to around $33 per month)
Easy Webinar uses YouTube Live technology by Google, which allows webinars to host an unlimited number of people. Easy Webinar is endorsed by internet entrepreneurs like John Lee Dumas and Kimra Luna.
3. WP Webinar
Cost: $197 single site license or $297 unlimited domain license, one time cost
WP Webinar is a webinar plugin for WordPress by Armand Morin. WP Webinar integrates with popular autoresponders, allows evergreen webinars, has a built in follow up system and works with most WordPress themes.
4. Webinar Ignition
Cost: Starting at $97 one time cost for live webinars only or $197 for live and pre-recorded webinars
Webinar Ignition is powered by Google Hangouts on Air (HOA) (which supposedly supports unlimited attendees) and is a WordPress plugin. The plugin includes customizable templates and integration with major email providers. You may want to check to see if they are still actively developing this product before purchasing.
5. Zoom.us
Cost: Starting at $54.99 for up to 100 attendees
I've used the free version of Zoom for one-on-one meetings and found that it worked well and was easy to use. They also offer a webinar version. I read that you will need to integrate things like webinar reminders, which should be fine if you have your own email marketing software. Features polling, Q&A and reporting and can host up to 10,000 viewers and 50 interactive participants.
5. Instant Teleseminar
Pricing: Starting at $47 / month for up to 20 attendees with 21-day $1 trial
Instant Teleseminar allows people to hold teleseminars are webinars without anyone having to download software. Facebook marketing expert Amanda Goldman-Petri uses them for live webinars. You can't record in mp4 format though, so you will need to use a screen recording tool.
6. Stealth Webinar
http://www.stealthseminar.com/
Cost: $97 setup fee and then $69.95 a month.
Stealth Webinar allows you to do live webinars using Google Hangouts technology and also automated pre-recorded webinars. You can even do hybrid webinars which include a mix or pre-recorded and live Q&A at the end. They also claim to have a fast response time for customer support of under 10 minutes on average. Used by Amanda Goldman-Petri for evergreen webinars.
7. Crowdcast.io
Cost: Starting at $29 / month for 50 attendees
Crowdcast.io offers webinars, live courses and online summits and is a web-based platform. Some nice features include Zapier integration, recording, polling and email/data export.
8. On24
Cost: Unknown, but reportedly expensive
On24 claims to be webinar software designed for marketers and includes features to increase engagement like surveys and group chat. No software download is required for attendees. On24 also offers on demand webinars and a custom gateway that you can use to continue to promote recorded webinars. On24 appears to be an enterprise level webinar solution with a high price tag, according to forum comments like this one.
9. Ready Talk
Cost: Starting at $119 / month for up to 149 participants when purchased annually. 14 day free trial
Ready Talk allows smaller meetings between individuals and webinars. Some features include event reminders, post webinar follow ups, one click recording, screen sharing, participant engagement and CRM integration with marketing software.
10. Click Meeting
Cost: Starting at $25 / month for up to 25 attendees, 30-day free trial
Click Meeting (formerly Click Webinar) is built with simplicity in mind and has interactive features like polling and whiteboard mode as well as webinar and attendee stats.
11. Livestorm
Cost: Starting at $99 / month for 100 attendees
Livestorm attempts to fix the most common issues with webinar software by providing a good user experience, audience analytics and segmentation and CRM integration with popular tools like Hubspot and Salesforce. It seems to be a newer platform that might be worth looking into.
12. Adobe Connect
http://www.adobe.com/products/adobeconnect/webinars.html
Cost: Starting at $130 / month for up to 100 attendees
Adobe Connect is a webinar platform that includes built-in email reminders and analytics and allows you to host unlimited events each month.
13. Webinar Jam
Cost: $397 per year (about $33 / month)
Webinar Jam is a popular webinar program for online marketers, created by veteran marketer Andy Jenkins. It runs on WebRTC technology and includes other features for marketers, including offer buttons, urgency countdown timers, units remaining (for scarcity), high converting registration pages, automatic recording and more. Purchase price also includes access to Webinar Genesis, Andy's webinar training course.
14. Webinar Ninja
Cost: Starting at $45 / month for up to 100 attendees, 14-day free trial
Webinar Ninja allows you to create a webinar in seconds and doesn't have the 30-second delay that is associated with Google Hangouts. Can have multiple presenters and includes automated email reminders for attendees. Other features include free, paid and evergreen webinars, anytime offers, automatic recording and analytics.
15. WebEx
Cost: Starting at $24 / month for up to 8 people, free version available for up to 3 people
WebEx is a webinar platform that offers features like whiteboard drawing, remote control someone else's desktop, video recording and multiple presenters.
16. Webinars on Air
Cost: Starting at $19.97 / month for up to 25 attendees
Webinars on Air uses Google+ Hangouts and can host up to 10 speakers at once. Some features include webinar recording, chat, polls and surveys and autoresponder integration. One click payment buttons, end of webinar redirects and paid webinars are some other nice features. I would contact them to verify that they are still operational and to make sure they have switched over to YouTube Live, since that is where Google has decided to move Hangouts.
17. Anymeeting
Cost: $78 for up to 100 attendees
Anymeeting has been around for awhile and they use to have a free ad-supported plan that was somewhat popular. It appears that they have since moved towards a paid business model. Anymeeting allows webinars and web conferencing with multiple people and doesn't require attendees to download software.
18. Meeting Burner
Cost: Free for up to 10 attendees, Paid plans starting at $39.95 per month for up to 50 attendees
Meeting Burner is a cloud based platform that allows live webinars and paid versions will allow you to record and host automated webinars.
19. YouTube Live Hangouts /  Google Hangouts on Air
https://www.youtube.com/my_live_events
Cost: Free
Google Hangouts is a free way to host multiple presenters and present to your audience and have the video automatically uploaded to YouTube. One downside is that some people have reported a time delay using this service that makes it difficult to have a real-time conversation.
20. R-Hub
Cost: Starting at  $395 one time cost
R-Hub (Real time collaboration hub) is software you can download to host webinars and video conferencing. The software has no monthly recurring costs and is a one time purchase, making it a possible choice for businesses looking for a long term solution for hosting multiple webinars without the monthly fees. Supports up to 30 webcams and up to 3000 attendees.
21. Big Marker
Cost: Starting at  $19 / month for up to 25 attendees, free plan with limited features available for up to 5 attendees
Big Marker is a no download browser based webinar solution that offers free and paid webinars as well as replay features. It integrates with several major email providers, like MailChimp and Hubspot, for email reminders. You can also do automated webinar replays, polling, and view analytics and reporting.
Other Resources and Webinar Software Reviews
Other people have written their own reviews and resources for webinars. Here are some that I found that might be useful.
9 Webinar software comparison by Kristi Hines – Kristi compares 9 popular webinar software programs and provides a nifty comparison chart.
15 Best Webinar Software Products from Around the Web – I bookmarked this article when looking at webinar software, but the comments below are even more insightful. One important insight is that Webinar Ignition (see comments below post) & other self hosted solutions can crash your server.
Comparison of web conferencing software – This chart on Wikipedia provides a feature comparison of some of the most popular web conferencing software.
My experience reviewing 8 webinar software options – Dan Norris from WP Curve provided his review of 8 webinar software options that they tried.
What's the best webinar platform out there? Here are a couple of discussions on Inbound over the best webinar platform:
https://inbound.org/discuss/what-s-the-best-webinar-platform-out-there-must-allow-over-1-000-attendees-globally
https://inbound.org/discuss/what-s-your-favourite-webinar-platform
26 Webinar Tools (old 2010 article but contains info on mainstream platforms) –
http://smallbiztrends.com/2010/04/26-webinar-tools-for-small-business-owners.html
A Few Extra Notes about Choosing Webinar Software
I've included a few extra notes on choosing webinar software based on what other people's online comments, emails and other observations.
Google Hangout based webinars allegedly have a few problems including time delay from when someone speaks to when the audio/video actually transmits. I've also heard that they can have reliability problems versus other webinar software, but they do allow for unlimited viewers and might be a decent solution if you have a smaller audience size.
Self hosted solutions can be a drain on your server, which can cause performance issues. So these might be good for small webinars, but are not scalable to larger audiences.
While webinar software with a low one time cost may sound good, be sure that they are still updating the software.
Here are a list of features that you may want to check for:
– Does it do evergreen or automated webinars?
– Does it include marketing features, like sell buttons or redirects?
– Does it include pre-designed templates for webinar registration?
– Does it include automated email reminders to maximize attendance?
– Does it integrate with your email marketing software or CRM to collect leads?
– Can multiple people present?
– You may also want to reach out to support to see how quickly they reply. Some webinar providers reportedly have slow or non-existent customer support.
Have you tried any of these webinar programs? Which ones worked or didn't work for you?