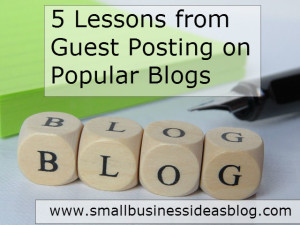 I did a little guest posting last year and targeted some of the best blogs. Asides from the exposure, I'd have to say that one of the best benefits of guest posting is getting feedback from editors that will make you a way better writer.
In fact, if you think you're a good writer, try writing for some of the top blogs in your niche and see what happens. You'll probably learn a few things and gain some insights from more experienced bloggers.
It's easy to post on your own blog, because anything you can publish anything you want to post. When writing for other people, you will have to adapt your writing to their audience and the editor's preferences.
But writing for other blogs can help you rapidly improve your writing skills. Here are 5 things I learned from guest blogging on other popular blogs.