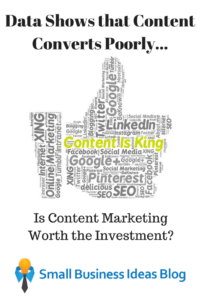 If you've been learning about content marketing, then you've probably wondered how well content actually converts readers into actual buyers of a product.
Content marketing blogs often talk about creating top of the funnel and bottom of the funnel content to attract potential customers who might be interested in purchasing your product.
While this idea makes sense, many people might be surprised to find that content doesn't drive a lot of sales (at least not directly).
Oli Gardener (one of the co-founders of Unbounce and a well known authority in conversion optimization) recently shared that content from the Unbounce blog only converts at 0.3%. As an experiment, Oli decided to write 20 blog posts in 30 days. These articles were designed to create awareness for Unbounce's newest products and drive trial signups.
The articles brought in 11,362 readers but only generated 37 signups (0.3%). He also compared the results to the past 9 months of content traffic and the conversion rate was about the same.
Does this mean that content marketing is a waste of time and resources?
Clearly, we know that it is not as evidenced by the fact that many businesses rely on it and a growing number of businesses are investing in their content marketing.
So what makes content marketing effective and how does it generates leads and sales for businesses? And how should we create content that is effective for actually generating revenue for our business?
Let's take a closer look…