If you're looking for an effective way to market your business online, you need to consider online video.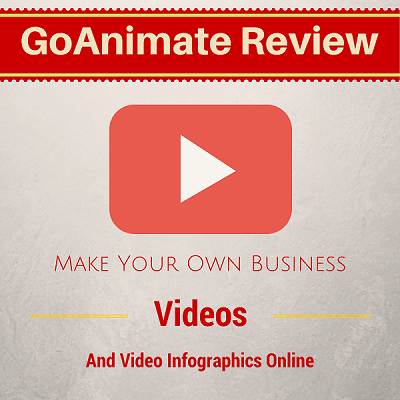 A full 85% of Internet users in the US viewed video online and 25% of all views came from ads. According to a digital video study done by BrightRoll in 2013, a full 91% of surveyed marketing executives said that video is more effective than display advertising.
Many businesses ignore online video because they think it is expensive and they don't know what to create or how to use video effectively.
Luckily, video creation tools are evolving and getting easier to use. I recently had the opportunity to play with GoAnimate, a tool that simplifies the video creation process so that anyone can do it.
In this article, I'm going to review the key features of GoAnimate, some tips for creating your own videos and how I'm planning on experimenting with video marketing to generate more traffic.
Why Businesses Need to Consider Using Video for Marketing
If you aren't convinced about the effectiveness of online video, then check out these statistics.
People who watched videos on retail sites stayed an average of 2 minutes longer and were 64% more likely to make a purchase. (Comscore, 2010)
In a 2013 study by EMarketer, 51.9% of digital marketers said that video was the type of content with the best ROI. (EMarketer, 2013)
According to Digital Sherpa, 80% of online visitors will watch video while only 20% will read the content in full. (Digital Sherpa, 2014)
One common obstacle that once prevented businesses from investing in video marketing was high production cost. However, tools like GoAnimate allow people to create high quality videos at an affordable cost.
What GoAnimate does
GoAnimate is an online video tool that makes it easy for anyone to create their own animated videos, including whiteboard videos, explainer videos, video infographics and more:
The cost is now $39 a month for the basic version, but $79 a month for the premium version if you want to remove or replace the GoAnimate watermark.
Video Infographics
Infographics are hot right now, but some marketers think that people will burn out and get bored of them.
Video infographics are a way to differentiate yourself from other infographic producers while combining audio and visuals to increase engagement.
Here's a video infographic that I created using GoAnimate using data from my last post about LinkedIn Publishing (link):
Explainer Videos
Explainer videos are usually under two minutes long and allow companies to quickly explain what they do to potential customers.
Hiring a professional to read your short two minute script probably won't cost too much. But even if you don't want to do that, you can still add text animation that your viewers can read.
Here's a good resource for additional information about explainer videos:
10 Reasons Why Your Business Needs an Explainer Video – http://www.videobrewery.com/blog/10-reasons-why-your-business-needs-an-explainer-video
Whiteboard Animations
Whiteboard animations are a great way to explain concepts and ideas in a more engaging way. You can use this format to tell stories, create advertisements and make training videos.
How You Can Use Animated Videos to Drive Traffic
I haven't used video much in the past, but here are a few ideas I plan on testing.
1. Video infographics – Unlike ordinary infographics, video infographics combine audio and visuals for a more engaging experience.
Since a lot of people are getting into infographic creation now, there is the threat that people will become bored of them. Creating a video infographic is a good way to differentiate.
2. YouTube / Video SEO – Views and engagement are factors that are important for ranking videos and animation can give you an edge over other videos.
A lot of teaching videos that I see on YouTube aren't very entertaining. Using animated videos is one way you can stand out from other video content creators.
3. Guest Posting – Getting a guest post on a popular blog can be difficult due to the competition, but including a quality video along with a high quality post might increase your chances of getting approved as well as help you stand out among other guest bloggers.
Writing Video Scripts
The hardest part about creating these videos was thinking of a good video script. Here are some tips that I used to create the video scripts:
1. Explainer Video – If you find a good explainer video, you can write down the script and create something similar. GoAnimate has some explainer videos featured on their site.
An explainer typically involves a fictitious character that has similar struggles as your potential prospect. Or it can involve two characters, one that does things the usual way and fails to achieve their desired result and another that uses your company and gets their problem resolved.
The basic formula for explainer videos is as follows:
-Start by mentioning the desired outcome that the person wants to achieve
-Then state the problem or obstacles that your character typically faces when trying to achieve that goal
-Agitate the problem by delving into some of the emotions and things that can go wrong
-Present your company and explain how you can help your prospect solve their problem
-Emphasize the positive result and emotions associated with achieving success
2. Video Infographics – For my white board video, I started with the topic and followed up with interesting statistics and facts.
With the LinkedIn video infographic, I just followed the structure of the original blog post.
Just like writing a blog post, try to think of a really great headline for the first slide. Try writing multiple headlines and picking the best one.
Insert supporting information in the middle and end with a call to action and your website information.
Advantages of GoAnimate
– Lots of ready to go animations, graphics, sound effects, and music. It even has some pre-done animation scenes corresponding to common problems, solutions and calls to action. Also, import your own files if you want.
– Quick to learn and very easy to use drag and drop interface. Short video tutorials inside GoAnimate explain how to get started in a short amount of time.
– Different video styles including white board animations, explainer videos and video infographics
– Add camera movements like zooming in and panning, transition effects between frames and animated text
– Convert to popular video formats
– Add your own voice to the tracks. Video sequences can be easily adjusted to match the timing of your narration.
– They have a great selection of background music that you can use
– Much less expensive than hiring a professional video animator
Cons
– Ongoing monthly cost might be high for new bloggers and people who are just starting their business and don't have income yet
– You will still be able to create more customized videos with tools like Adobe Illustrator and After Effects if you have the skills or budget.
Overall, I'm pretty satisfied with GoAnimate due to it's ease of use and flexibility. If you're thinking of using online video to promote your business or blog, then GoAnimate is definitely worth a try.