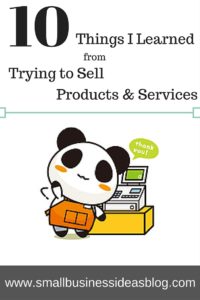 Over the past year or so, I've been playing around with the idea of selling online courses about business and marketing.
I've only pitched one of them to my email list on this blog, but I also created a couple of course on Udemy.
I've been in business since about 2004, but I have to admit that I still have a lot to learn about selling. So that's one of the things I've been studying and experimenting with recently.
Although the course creation approach hasn't done amazingly well so far, I've learned a lot about selling from trying it out. In this article, I'm going to try to summarize a few things I've learned about selling so far.
1. Selling physical products is easier, if you can get targeted traffic
For most of my 10+ years as an online entrepreneur, I've sold physical products. I started with selling fragrance oils on Ebay and then launched my own e-commerce websites to sell party supplies.
The nice thing about selling inexpensive physical products is that it doesn't require complicated sales funnels or selling skills. Having a good picture helps in some cases, but for inexpensive products, even a low quality image can work.
You usually don't need to have a long text description either. Mostly, be sure to describe any details that the buyer will need to know about the item.
What's critical about selling physical products is getting the right customers to your website.
Things like info products or software often require more work to sell because you have to educate your prospect about it and convince them of the value. With physical products, your customer is getting an actual physical item when they complete the purchase.
In other words, the value is more obvious with a physical product, making it easier to sell as long as you can reach the right audience.
2. How should I price my products? Low vs High pricing…
Some people sell a mix of high priced and low priced products. While most of the money will come from high priced products, the low priced products will still make a significant portion of the revenues.
If you are just starting in business but don't have strong selling skills, selling a lower priced product can be a good idea. You can still make a lot of money if your sales volume and profit margins are high enough.
It can also be a good way to test your product idea and selling skills.
Selling high priced products and services involves a different sales process, usually with more steps.
3. There are a few good ways to sell high priced products and services… and you're more likely to fail if you're not doing one of these
Start with a lower priced product
Build a really large prospect list
Build a small targeted prospect list
Build a really high converting sales funnel
Successfully selling a high priced product is a function of several things, including building trust, reaching enough prospects and conveying the value in what you are selling.
A lot of successful businesses also partner with other businesses to expand their reach. Joint ventures and affiliate cross promotion is really common among top online entrepreneurs.
4. Videos aren't always the best way to sell online
If you've been learning about online business for awhile, then you've probably seen gurus selling their info-products with online videos. And because just about all the gurus use video to sell their products, you might think that it's the most effective medium for selling online.
Video can work extremely well, but the fact is that it may not be optimal for all situations.
For one, there's a higher resistance to watching videos that reading an email or blog post for example. People can usually read or at least skim through text much faster than watch your video.
So while a lot of people say that long form sales letters are dead, plenty of online businesses are still using them and they do still work.
I've noticed that I am more likely to read something than click through and watch a video, due to the time commitment. But video can be more engaging when I do choose to watch.
Additionally, video works better if your audience is use to getting valuable video content from you. Try a mix of video and text content to see what readers are engaging with, but don't always assume video works better because everyone else is using it.
5. Sell them what they want, but give them what they need
Eben Pagan popularize a concept known as "moving the free line" where you give away your best ideas for free. Giving away free education makes it easier to sell your products later since you are giving away a lot of value up front.
But I've seen a few businesses make some mistakes with this concept and it doesn't always work.
A long time ago, I was on a website trying to sell dance instructional videos. The site gave away a free dance lesson from the actual DVD that they were trying to sell.
However, the exciting thing about dancing isn't the actual lesson. It's the end result. People want to look amazing when they dance and impress their friends and whoever's watching.
Another site I visited was selling a competing product, but their video showed all the cool moves you can learn inside the DVD instead of the actual instructional lesson. Although I can't be certain, I'm pretty sure that site sold better and one of my friends even bought a video set from them.
I created a blogging course awhile back that covered some of the techniques that I used to promote my blog. Although the reviews were good, I wasn't entirely satisfied with the course.
In other words, I felt like I could make it better and create better results for the people who bought it.
One of the things that I really wanted to focus on was blogging productivity as that's an area I see a lot of people failing. I met some bloggers at a Meetup last year and found that most of them weren't even blogging consistently.
So the focus of my launch videos was on blogging productivity in my advanced course. Unfortunately, it didn't do too well.
Having interacted with some bloggers since then, I've noticed that a lot of bloggers are looking for more blog promotion techniques. So if I were to focus on selling a blogging course, I would make blog promotion a bigger focus in the promotional materials.
But I would also include the blogging productivity information in the course, as that is one of the areas that causes most bloggers to fail. Plus it would differentiate my course from any other blogging courses out there and increase the value for the customers.
6. Increasing product value makes your product easier to sell
Try to give your customers more value than they might get elsewhere and selling will become easier. Research your competition and be aware of what they are selling and their pricing.
Commodity products are likely to have a lower price point than branded products, whether you are selling information products or physical products.
For example, if your online course appears to be the same as everyone else's, then you probably won't be able to sell as much as if yours stands out in some way. The same is true for physical products.
Increasing the perceived value of what you are selling can also help. A few examples:
– Course with video usually have a higher perceived value than e-books
– Live events and classes usually have a higher perceived value than online.
– Adding bonuses can increase the value of your offering
– Something that people normally pay money for, like a physical product or gift card can increase the value of your package.
– Providing one on one or group coaching can increase the value rather than just selling information.
7. Lead the sales process
When selling web design services, I found that a lot of people that found me didn't have a clear idea of what they wanted and preferred to be led through the sales process.
Leading the sales process allows you better control of how the conversation proceeds and allows you to convey the value. It also allows you a better chance of dictating the final price and terms.
When I started selling, I just kind of went with the flow but eventually created a process that I could follow with each new customer. Creating a good sales process make you appear more professional and allows you to charge higher prices.
8. Should you pre-sell a product before it is created?
I read forums every now and then and one common piece of advice I see is to not waste your time creating courses, but to start by pre-selling instead. That way, you can get paid first and be sure that there's demand for your course.
Pre-selling can work in some cases and for some products, but I don't entirely agree with that approach for a couple of reasons.
Doing a product launch is a lot of work, and creating a course on the fly after it sells is difficult and stressful. It took me over a month to complete the course including all the videos and handouts.
Plus, it's harder to sell something that doesn't exist yet especially if you don't know what's going to be in it yet.
The best alternatives are to sell a live webinar, create a short simple course to start with or sell coaching first. These approaches require less up front work and can help you design your course content.
But creating these courses was worth doing. Create online courses isn't rocket science, but there's definitely a learning curve.
I learned a lot about recording videos, selling and some things to work on for next time. I wouldn't have learned these things if I hadn't invested the time and effort into it.
I've also learned that my courses are rated well by the people who take them and I've gotten feedback to improve on course creation further.
Everything is an iterative process and you get better as you go along.
9. Consider going for the quick win when starting out
Everyone wants to sell high priced products or services when they start out, but sometimes it's better to go for a quick and easy win.
Starting off with an inexpensive price can be a good way to see if you can convince someone to spend money with you as well as test your selling skills. You might even want to try to see if you can get someone on a free webinar or something similar.
Getting that first sale is exciting and inspires you to keep at it. As demand grows, you can increase your pricing later or introduce higher priced products.
When I first started selling websites, I think I charged just a few hundred to my first customer. It was motivating getting that first client and of course I've increased my pricing since then.
10. It Takes Practice…
Just like getting good at anything else, it takes time and practice to master the skill. Don't get discouraged if you don't get the results you want the first time.
Instead, keep trying and continuing to learn. Adjust your tactics as you go along and learn what value actually means to your customers.
Work on continuing the master your craft and making yourself highly credible. Learn about sales and copywriting.
So what about you? Have you had a lot of success with selling?