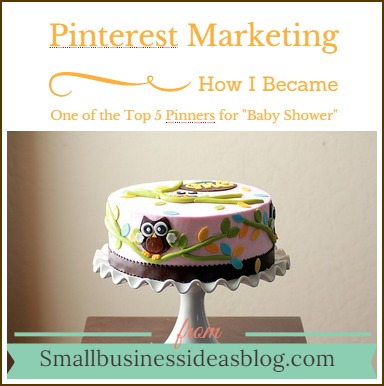 Pinterest has received a lot of attention recently for becoming one of the fastest growing social media sites of all time.
Unlike the original version of Twitter, Pinterest focused heavily on visual content and presenting it in a way that makes it easy for users to discover new content targeted towards their interests.
Pinterest accounts for 25% of all referral traffic to retail sites and generates 4x more revenue per click than Facebook or Twitter. With numbers like these, Pinterest is hard to ignore for e-commerce marketing.
Over the past year, I've been experimenting with Pinterest for My Baby Shower Favors, one of my e-commerce sites and I'm happy to say that we are the #1 or #2 Pinner for the term "baby shower". Rankings can fluctuate over time but over the past several months, we've always been in the top ten.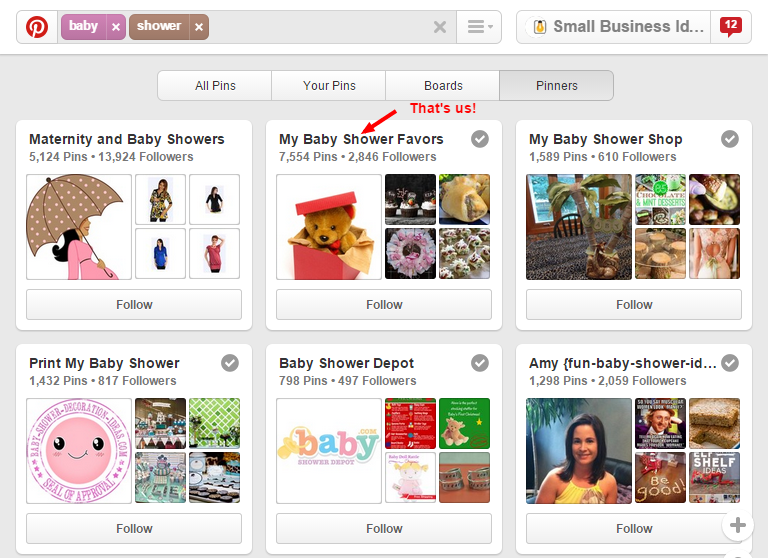 Some of our boards are also ranked well for other related keywords, like "baby shower cupcakes" and "baby shower decorations".
And so far, we achieved this without creating any original content…
How We Grew Our Presence on Pinterest
When we launched our Pinterest account, our sole focus was to create a resource that our target audience was interested in and grow our followers. Once we had a sizable following, we would then add more focus to promoting our brand and products.
I started by doing keyword research using the Google Keyword Planner and also looking up top Pinterest boards and seeing how big their following was.
Pinterest keyword suggestions also helped me to brainstorm ideas.
I then created the boards, wrote unique descriptions for each one and started pinning relevant items to each board.
Although we pinned more aggressively at the beginning, we later became more casual and focused on pinning at a more natural pace.
How We Beat Big Brands with More than 5x as Many Followers
No one knows the specifics of Pinterest's ranking algorithm, but I believe that we were able to outrank larger competitors for a couple of reasons:
Consistency – By pinning more consistently, we were able to generate ongoing traffic to our pins and boards.
Some of our competitors stopped pinning for months, which allowed us to surpass them. In fact, My Baby Shower Favors was #1 for several months because other more established pinners hadn't pinned anything new in months.
I don't think that pinning every day is required to rank well. In fact, Modern Baby Shower Ideas was still in the top 5 even though they didn't pin anything for months, probably because they had a lot of pins that were still getting views and repins.
But Pinterest users are always looking for fresh new pins and ideas. Old pins will get repinned and viewed less as time goes on.
So simply being consistent and pinning regularly can increase activity on your Pinterest account and keep followers engaged.
Quality – As we continued to pin images, we paid attention to what types of images were getting repinned.
People liked creative food and decoration ideas as well as resource lists. Our boards and pins have done well because we focused on pinning content that our target audience was interested in.
Paying attention to seasonal trends – Our account picked up a ton of new followers from creating a Halloween, Thanksgiving and Christmas board.
I was initially unsure of whether creating these boards would be a good idea since the interest in them would decline sharply after the holiday was over.
However, creating a Halloween board and pinning creative Halloween food and party ideas to it proved be an excellent move. Our Pinterest pin views nearly tripled, while many competitors ignored Halloween.

Even after Halloween, our Pinterest views are up more than double. We do have Thanksgiving and Christmas boards that we are actively pinning to, so it should be interesting to see if views will remain strong or decline after the holidays.
Future Plans – How I Plan to Increase Traffic and Sales from Pinterest
To improve the results and traffic to My Baby Shower Favors, we will need to focus on a few things:
1) It's clear from our analytics that we need to start creating content. Even without creating content, our activity on Pinterest has generated some brand awareness and even a few sales.
Creating content should increase our visibility on this channel and grow our blog following and sales further.
Tools like Canva and PicMonkey make Pinterest friendly image creation easy. I've been using these tools to create graphical header images for blog posts on this blog.
2) For most of the year, we didn't pin any of our own content at all. Our boards were focused strictly on what the target audience would want to see.
More recently, we created a "My Baby Shower Favors" board around September and I also pinned some of our items onto other boards.
This activity has increased the visibility of pins related to our brand.

Thus, we will be pinning our own products in addition to content.
3) Another thing that I may play around with is Pinterest community boards, but I will try starting a community first on Google Plus or another channel first. Although commenting is allowed on Pinterest, Pinterest is not a channel where users are social.
So creating an offsite community may be a good way to encourage bloggers to network with each other.
This particular Pinterest account has been a lot of fun to manage and I'm looking forward to improving our results even further.
For more Pinterest related tips, be sure to check out these posts:
How to Promote Your Blog Content: 40+ Experts Share Marketing Tips – http://www.smallbusinessideasblog.com/how-to-promote-your-blog
How I Increased Social Sharing by 96% on a Post – http://www.smallbusinessideasblog.com/increase-blog-sharing