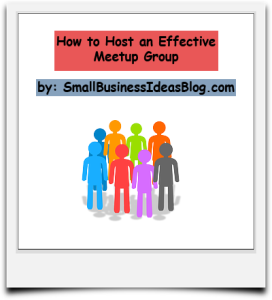 Meetups are a great way to make new friends and network with people with similar interests. Some meetup groups have been around for a long time and have active members. Hosting your own Meetups can also be a great way to find new friends and businesses connections.
Meetups are also often better than networking events for finding and developing new business connections and clients. One key reason is that if you attend regularly, you actually get to know some of the people and develop real relationships. Another reason is that you already have a common interest with the people that attend.
However, many Meetups struggle to get off the ground. What makes some Meetup groups a success while others fail? Here are some ideas on how to make Meetup groups work for you.
1. Before you start, look around to see what other groups already exist
Check out other Meetup groups in your city as well as other cities of similar size. Are there any Meetups like the one you want to form in other cities?
What about online communities? Events? Before forming a group, it is important to try to gauge the potential interest in the Meetup group.
For example, let's say you want to start a badminton Meetup. Look around to see if there are other badminton groups or places that you can play. Look at Meetups from other cities to see if they have any badminton Meetup groups.
It will be easier to find and retain interest if there are signs that other people have shown interest in other venues. For instance, just about every city has a business networking Meetup group, which means that if I wanted to start one in my city, it would be more likely to succeed than a Meetup group to weave baskets.
Of course that doesn't mean that you shouldn't try, but understand that some groups may be more difficult to grow than others.
2. If possible, find a core group of friends to attend regularly
Social proof can be important for Meetup groups, especially if they are new. No one wants to attend a Meetup and be the only one there besides the organizer.
That's why if you can get find a few friends or people that share your interest and can go regularly, then this can make it easier to get the group going. For example, if you decided to start a Meetup to share marketing tips try to get a few friends to commit to go to each Meetup.
If the experience is good and people feel that going to the Meetup is beneficial, then your group will continue to grow. Having a core group of attendees early on gives your Meetup some social proof and makes it more comfortable for other people to attend.
3. Give people an incentive to RSVP early
Most Meetups don't give any incentive for people to RSVP, which means that a lot of people won't do it or will wait to see if other people are going. If no one RSVP's, then this might turn off other potential attendees.
You can offer a discount or free entrance for reserving your spot on Meetup. Getting a bunch of people to RSVP will make your Meetup look well attended, which will get even more people to come out.
4. Leadership matters
Be sure to make your guests feel welcome, especially if it is their first time attending. Sometimes people are more comfortable talking to their friends or get too engaged in conversation with others.
If the group gets large, then it may be difficult to mingle with everyone. Try to find other people who might be interested in becoming assistant organizers and hosting events too, especially if they are doing a good job of connecting with other people. This will also take some of the pressure off of you and make managing Meetups less stressful.
5. Get feedback
Be sure to get feedback from group members on what they think of the Meetup and what can be improved.
6. Be consistent
I've seen Meetup groups go for awhile and then all of the sudden they stopped having their monthly Meetups. Then when they try to start up again, people have moved on and forgotten about it.
If you are planning on running a Meetup group, have Meetups consistently, at least once a month. If you only get a few people out when you start, don't get discouraged. Sometimes it takes time to build a group, so if the people are enjoying it and there seems to be room for growth, then keep going.
7. Promote
Finally, it is very important to try to promote the group outside of Meetup. Some of the most successful Meetup groups also use Facebook marketing and LinkedIn to get people to their events. Or you can also post to local event websites.
A lot of newbie Meetup group organizers just start a Meetup and hope that people will show up. Figure out a plan to promote the group outside of Meetup too.
With all the social media channels, people are spending a lot of time trying to network online. But nothing beats forming real relationships in the offline world, and networking through Meetups is a great way to do that.