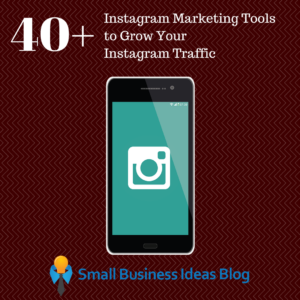 Over the past few years, I've spent a good amount of time exploring other social media networks and experimenting with marketing on them.
One social network that I'm particularly excited about is Instagram. Instagram is one of the fastest growing social media networks with over 400 million users and I've heard of people growing followings exceeding 100k on Instagram alone.
Additionally, Instagram's ability to convert users into buyers seems to be higher since Instagram is based on social interactions rather than ads.
I decided to do some research on Instagram and some of the tools that people can use to manage their presence on that platform and market themselves. I've provided a list of tools and articles that you might find helpful if you want to get into Instagram marketing.

Analytics for Instagram
Instagram Web Viewers
Scheduling Tools
Influencer Marketing Tools
Other
Resources
Analytics for Instagram
To see what content is working and when the best time to post is, you need analytics data. The following tools provide Instagram analytics so that you can make better decisions, see what photos are popular and learn which campaigns are working for you.
Asides from the tools below, I've also discussed more comprehensive Instagram marketing tools like Pixlee and Viral Tag (in the scheduling tools section) that include analytics as one of their features.
1. Iconosquare
http://iconosquare.com
Cost: Starting at $49 / yr. No free trial but you can request a demo.
Iconosquare seems to be the most well known Instagram analytics tool and claims to be used by over 250,000 brands on Instagram. Asides from analytics, you can also set up and run photo and video contests quickly and manage your Instagram conversations with this tool. They even have a free tool to search for Instagram influencers ranked based on followers or by engagement levels.
2. Simply Measured Instagram Analytics
http://www.simplymeasured.com/freebies/instagram-analytics
Cost: Free
Simply Measured offers a free user report for users with up to 25,000 followers. This report shows how effective your brand engagement is on Instagram and tracks which photos are the most popular.
3. Influencer DB
https://www.influencerdb.net/
Cost: Free version includes 1 day mention history and monitor 1 competitor. Paid versions starting at $45.
Influencer DB is a tool that can monitor your competitors and also analyzes different channels and your own posts to see where your best opportunities lie.
4. Demographics Pro
http://www.demographicspro.com/
Cost: Starting at $40 per month for 25,000 followers analyzed (annual limit). Pay per use options also available.
Unlike other Instagram analytics tools that only focus on follower counts and engagement metrics, Demographics Pro also provides demographic information about a user's followers, including average age, marital status, gender, etc. The pricing is expensive, but could be worth it for serious Instagram marketers with bigger budgets. Launched in late 2015.
5. Social Insights
https://socialinsight.io
Cost: Starting at $29 / month for one account and one user. Free trial and 30 day money back guarantee.
This tool monitors follower growth, interactions, engagement and more. They'll soon be releasing an email reports feature.
6. Minter
https://minter.io
Cost: Starting at $20 / month for up to 5k followers, 7 day free trial
Minter is another Instagram analytics tool that some big brands use. It allows you to optimize your content to find out what performs best and when the best time to post it is. You can also export your data and create visuals or PDF's for presentations.
7. Adalyz
http://www.adalyz.com/
Cost: Starting at $49 / month for 2 social media accounts, 2 week free trial
Want to compare your Facebook, Adwords and Instagram advertising campaigns? Adalyz allows you to view all your social media campaigns under one dashboard, track ROI and create reports that you can share with others.
8. Prime for Instagram
http://www.primeforinstagram.com/
Cost: Free
Prime is an IPhone app that predicts the best time for you to post on Instagram for maximum engagement. The optimal time may be different for each day of the week.
9. Keyhole
http://keyhole.co/
Cost: Starting at $129 / month with 3 day free trial
Keyhole tracks hashtags on Instagram and Twitter so you can monitor the reach of your brand or identify influencers to work with. Updates in real time. You can also get email alerts for keyword or brand mentions.
10. Hashtracking
https://www.hashtracking.com
Cost: Starting at $29 / month to track up to 3 hashtags
Another tool that tracks Twitter and Instagram hashtags in real time is Hashtracking. They even have a patent pending feature that analyzes the effects of color on engagement.
11. Ink361
http://ink361.com
Cost: Free version, paid version coming soon
Ink361 allows you to manage your account, analyze what is causing engagement with your followers and create custom circles for users you want to track. The paid version allows you to also monitor competitors and provides even more insights.
12. Social Rank
https://socialrank.com/
Cost: Free version. Paid versions start at $49 / month
Social Rank is a neat tool that allows you to organize and filter your Instagram and Twitter followers by interests and demographics. You can create lists and export the results into a CSV file or PDF with the paid version.
13. Smart Metrics
https://smartmetrics.co
Cost: Starting at $9 / month for 5k followers, 7 day free trial
Smart Metrics tracks 30+ metrics on your Instagram account, including follower growth, audience demographics / location and times when your posts get the highest engagement.
Instagram Web Viewers
Since Instagram is a mobile app, it is only designed to be viewed on a mobile device. However, sometimes managing Instagram from a computer is more convenient. This section lists a few mobile emulators that you can run from your computer in case you prefer to manage Instagram from the convenience of your laptop or PC.
14. Blue Stacks
http://www.bluestacks.com
Cost: Free (but you have to install some apps every now and then)
Blue Stacks is perhaps the most well known Android emulator and it is primarily designed so that people can play mobile games on their computer. It takes a while to download, but is easy to use. Blue Stacks will occasionally prompt you to pay a few dollars a month to subscribe, but you can just download some of their recommended apps instead if you want to continue using it for free.
15. Andyroid (Andy)
http://www.andyroid.net
Cost: Free
Another Android emulator that people like is Andy. It's suppose to be more intuitive and easy to use, but I couldn't figure out how to use it myself. The video below compares Blue Stacks with Andy and the pros and cons of each.
https://www.youtube.com/watch?v=woofEPicIq4
16. Websta.me (formerly known as Webstagram)
http://websta.me/
Cost: Free
Websta.me allows you to view your Instgram account in their web browser so that you don't have to use your phone. It also gives you stats on your posts, your engagement and your network. I couldn't find their exact pricing on their site, just that it was subscription based and that there are no refunds.
With Websta, you can also create image groups and display Pinterest-styled boards on your website. They offer an embed widget which makes it easy to display Instagram images on your website. One really nice feature is that you can create custom feeds in Websta.
17. Instapic for Windows 8.1 and Windows 10
https://www.microsoft.com/en-us/store/apps/instapic/9wzdncrfhwhx
Cost: Free
Instapic is an unofficial Instagram client for Windows that works with Windows 8.1 and Windows 10. It comes with photo editing features.
18. Tide
https://www.gettide.io
Cost: Starting at $189 / month
Tide is a social media aggregator that allows you to display your social chatter from Twitter and Instagram. For Instagram, it displays feed images in a big grid instead of a single column.
19. Bynd
https://www.byndapp.com
Cost: Free
Bynd consolidates all your social media feeds into one place, so that you don't have to keep each site open on your phone. Some popular networks include Instagram, YouTube, Facebook, and Twitter. It looks like you can also add RSS feeds from other sites as well and it also sends you social media notifications.
20. Likelist
http://www.likelist.it/
Cost: Free
Likelist displays a feed of images that you liked on Instagram. You can comment and enter a tag to send images to different lists.
Scheduling Tools
Manually updating your Instagram account can be time consuming, especially if you want to be consistent. Scheduling tools allow you to schedule photos and text to post to Instagram regularly so that you can keep your audience engaged.
21. Autogrammer
http://autogrammer.com
Cost: Plans start at $19 / month. 7 day free trial
Autogrammer allows you to schedule posts to Instagram and other social networks including Facebook and Twitter. You don't need to have a phone… Autogrammer will post to Instagram for you.
22. Later (formerly Latergram.me)
https://later.com
Cost: Free for 30 posts per month (2 social profiles), Paid plans starting at $19 / month
Free version allows 30 posts per month and can manage two accounts, but you are only allowed 30 posts between both accounts. Later allows you to have a team of people managing Instagram accounts using a visual content calendar and you can also manage multiple accounts from one place.
Later does not automatically post to your Instagram, but instead sends you the photo and caption to your phone so that you can post with one click during the scheduled time. You will need to download their app.
23. Onlypult
https://onlypult.com/
Cost: 7 Day Free Trial, Plans starting at $12 per month for up to 3 accounts
Like Later, Onlypult allows you to have multiple users managing multiple accounts. You can pick the day and time you want your scheduled posts to appear. It also has analytics so that you can see the best times to post and repost content from accounts you like.
24. Push Photo
https://push.photo/
Cost: Starting at $9.75 per month for 2 Instagram accounts, One week free trial available
Push Photo allows scheduling of Instagram posts, resizing of photos without using a phone, and multiple account management. It might not support multiple users, however, since this feature was not listed on their website.
25. Schedugram
http://schedugr.am/
Cost: Starting at $20 per month for up to 10,000 followers per account. Price increases for more followers. 7 Day Free Trial
Schedugram allows you to schedule posts for your Instagram and all accounts come with unlimited users and uploads. Allow multiple users to manage multiple Instagram accounts. You can even see who scheduled which posts. The tool also integrates with Canva, a popular image creation tool and you can bulk upload images.
Schedugram also has a first comment feature that allows you to schedule a first comment to go along with your uploads, which can include hash tags since many brands post to Instagram in this fashion.
26. Viral Tag
https://www.viraltag.com/
Cost: Free 2 week trial and plans starting at $29 / month for up to 10,000 followers.
Visual content suite that allows you to schedule posts to Instagram, Pinterest, Twitter, Facebook, Tumblr and LinkedIn. Includes advanced features like UGC content management, analytics and shoppable images. The tool integrates with Canva and also has a large selection of searchable stock photos that you can use for your posts.
Viral Tag streamlines posting to Instagram with their app, but you still have to complete the post yourself, i.e., the process is not fully automated. It will send a notification to your phone at the schedule time at which point the app will automatically pull the image and caption from Viral Tag into Instagram. You can then just hit the "Share" button on your phone to publish. This post on their help desk includes a video that explains in full detail.
Also, here is my full length review of Viraltag.
27. Wisel.it
https://wisel.it/
Cost: Free for less than 1000 followers and one post a day, Paid plans starting at $4.99 per month.
Wisel.it seems like an inexpensive Instagram scheduling tool that allows you to manage multiple accounts. It comes with a photo editor that allows you to crop, resize and even apply image filters.
Some other nice features include being able to repost photos from your feed while giving credit to them and being able to automatically share your posts to Twitter and Pinterest at the same time. You can pick the date and time you want your post to appear.
28. Pixlee
http://www.pixlee.com
Cost: Unknown
Pixlee offers a variety of features including content calendar and scheduling. They also offer a free weekly Instagram analytics report if you sign up with your email that tracks brand performance and top advocates that are talking about you. They have an influencer management feature that allows you to more easily collect and curate posts from influencers and advocates, including the ability to display customer photos on your site.
Finally, shoppable galleries are available for e-commerce users. Pixlee also has a Pinterest scheduler.
29. Olapic (formerly Piqora)
http://www.olapic.com/
Cost: Unknown
Olapic is a enterprise level visual marketing suite that collects data from Instagram, Twitter, Tumblr, Vine, YouTube, email, and direct uploads. Tag content, make it shoppable and publish it to your website. Request rights from customers to use images in offline materials. Tracks and measures success, sales and engagement from your campaigns. They also have social media advertising solutions including retargeting.
30. Dash Hudson
https://dashhudson.com/
Cost: Unknown
Dash Hudson is a comprehensive Instagram marketing suite that includes analytics and post scheduling. Monitor and collect user generated content and identify top brand advocates. Also includes e-commerce features that make your Instagram feed shoppable.
31. Planoly
https://www.planoly.com
Cost: Starting at $7 / month for 1 Instagram account
Planoly has a drag and drop feature that allows you to arrange the look and feel of your Instagram feed. Schedule images and captions and respond to comments in one place. Also includes analytics to help you better understand your audience.
32. Readypulse
http://www.readypulse.com/products/schedule-instagram-posts/
Cost: Unknown, contact them
Readypulse has an Instagram scheduling tool that allows you to upload your images and posts ahead of time and schedule push notifications to your phone that allow you to publish when the time comes. They also have a feature that makes your Instagram feed shoppable for e-commerce.
33. Buffer
https://buffer.com
Cost: Free, Paid plans starting at $10 / month
Buffer is a popular social media scheduling tool and it has also integrated Instagram scheduling. Like many Instagram scheduling tools, it sends you a notification when it is time to post and is not fully automated.
34. Hootsuite
https://hootsuite.com
Cost: Free version. Paid plans start at $10 / month
Hootsuite is a popular social media scheduling tool and also schedules posts to Instagram, but you will have to have your phone on to push your post live at the scheduled time. You need to have both Instagram and the Hootsuite mobile app on your phone.
35. Plann
http://plannthat.com
Cost: $8.99 one time cost
If you are concerned about the overall appearance of your Instagram feed, then check out Plann. Plann is a scheduling app that allows you to see how your feed will look. It will send a push notification to your phone when your content is scheduled to go live, which will allow you to post from your phone. Visual drag and drop feature and Dropbox integration.
36. Agorapulse
https://www.agorapulse.com
Cost: Starting at $49 / month
Agorapulse is a social media management suite that allows you to schedule and manage all your social channels in one place, including Instagram, Facebook, Twitter, and LinkedIn. You will need to have your phone on to push your content live at the scheduled time.
37. MavSocial
http://mavsocial.com
Cost: Paid plans starting at $59 / user / month
MavSocial is a social media management and scheduling tool that includes features like digital rights management and a built in image editor. It can send you push notifications to Instagram so that you can remember to post to Instagram on schedule.
38. Sprout Social
http://sproutsocial.com/integrations/instagram
Cost: Starting at $59 / month
Sprout Social is a social media marketing suite that contains Instagram management capabilities, including the ability to manage multiple Instagram accounts from one place and Instagram analytics. Also integrates with Facebook, Twitter, LinkedIn and Google Plus.
39. Grum
https://grum.co/
Cost: $3-$10 / month
Grum is an Instagram scheduling tool that doesn't require you to use your phone to post. You can upload your posts weeks in advance and it will post to your account for you.
Influencer Marketing Tools
One of the fastest ways to grow an engaged Instagram following is by leveraging influencer marketing. If other influencers mention you on Instagram, then they can send you a lot of followers quickly.
40. Groupme.com
Cost: Free
https://groupme.com
Group Me is a group messaging app that you can download on your phone. Some Instagram shout groups have sprung up on here and it can be a good place to find other users to connect with.
41. Yotpo
Cost: Free Lite version, Starting at $25 / month for Starter version
https://www.yotpo.com
Yotpo is a social media curation tool that allows you to curate photos on your Instagram feed. It also allows you to make your Instagram feed shoppable and turn product reviews into Instagram ads, which can convert higher than a normal Instagram ad. Pro, Powerhouse and Entreprise options start at $299 / month.
42. Klear
Cost: Free version is limited to 10 search results, Paid version starts at $249 /  month.
http://klear.com/tour/influencer-marketing
Klear is an influencer marketing tool designed to locate influencers on Twitter, Instagram and Facebook. It allows you to monitor keywords and identify profiles with a strong follower base.
43. Ninja Outreach
Cost: Starting at $29 / month. Free 2 week trial.
https://ninjaoutreach.com
Ninja Outreach has gathered over 2 million Instagram profiles in their database and their software allows you to search for Instagram users by keywords and tags. You can filter by follower counts, export to CSV and some users even have social profile and contact information.
Other
Here are a few other useful Instagram tools.
44. Linkin.bio
http://linkin.bio
Cost: Premium membership with Later
Linkin.bio allows you to link to a single page on your Instagram bio that mirrors your Instagram feed, except the images on this page can link out to your own or other websites.
45. Mulpix
http://mulpix.com/
Cost: Free
One of the shortcomings of Instagram search is that you can only search on one hash tag at a time. Mulpix allows you to search using multiple hashtags, making it easier to find relevant content.
46. Repost
http://repostapp.com/
Cost: Free
Repost is an app that allows you to easily repost other people's content on Instagram and give them credit.
47. Tag for Likes
http://tagsforlikes.com
Cost: Free
Tags for Likes provides lists of popular tags that you can add to your Instagram posts or comments to get more visibility to your post.
48. Like2Have.it
https://like2have.it
Cost: $20 / month, 14 day free trial
Instagram doesn't allow clickable links in posts, but there are several apps to make your Instagram feed shoppable. Like2have.it is one of the more popular ones that I see. Basically, it creates a mirror site of your Instagram feed where people can purchase items and you put their link in your bio so that your followers can click on it to get to the shoppable feed.
49. Pixelshop
https://pixelshop.io/
Cost: Starting at $49 / month, 7 day free trial
Pixelshop allows you to make your Instagram feed shoppable by putting a link in your bio that leads to a shoppable feed.
Resources
If you want to learn a little more about marketing on Instagram, here are a couple of good resources I found that are worth checking out:
Instagram Influencer Marketing – Has Anyone Tried? – This Reddit thread has some good information about influencer marketing on Instagram.
Can You Post to Instagram from Desktop? 9 Options to Try – Louise Myers has a good post that reviews some apps the you can use to post to Instagram from your desktop.
Did I Miss Anything?
Although I've only started using Instagram, I've found that the engagement is higher than other social media sites. Feel free to follow me on Instagram – https://www.instagram.com/sbizideasblog.
By the way, if you would like an updated copy of this resource and to get updated when I find new tools, then click here or click the image below to download it for free. It also includes a list of Instagram case studies that I found from people who successfully used Instagram to grow their business.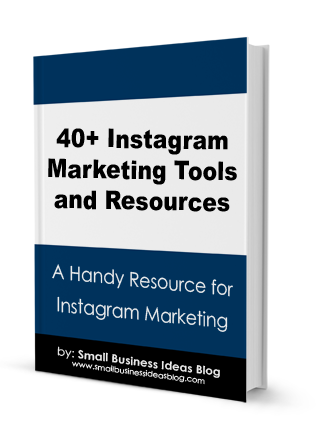 What tools do you use for your Instagram marketing?