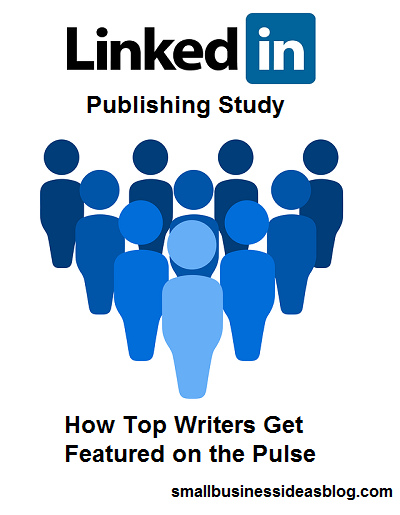 In February of 2014, LinkedIn opened up its publishing platform to it's members, meaning anyone can apply to publish articles on LinkedIn. I became interested in LinkedIn's publishing system when I noticed that even first time writers were able to get featured on the Pulse and get ten thousand views or more.
For a 30 day period, I recorded data on about 300 posts that got featured on the Pulse. Then I started experimenting on my own by writing my own posts.
In this post, I'm going to share some of the details of this study and some insights from my own experiments with publishing on LinkedIn.
1. Popular Topics
One of the most important things you will need to do to perform well on LinkedIn is choose the right topic. It's important to remember that LinkedIn's audience is composed of business minded professionals and career oriented individuals who are interested in networking and finding new opportunities.
When I was studying articles that got featured on the Pulse, I assigned each article to a category and these were the most popular topics:
Careers – The most popular topic for LinkedIn articles was careers. 42% of the posts on the Pulse were related to careers and included topics like interviewing, resumes and career advancement.
Business – Business was the second most popular topic with 15% of the posts. Popular topics in this category include entrepreneurship, big businesses and business advice.
Self Improvement – Another popular topic was self improvement with 9.33% of the posts recorded in this study. Common themes include how to be more successful, improve happiness, and improving creativity.
Other popular topics on the Pulse include technology, sales & marketing, current events and productivity.
In case you don't like writing about these topics, I also want to mention content channels. You can view these by click on any Pulse article (most will be channel featured) and then scrolling to the bottom of the article and click on the channel link.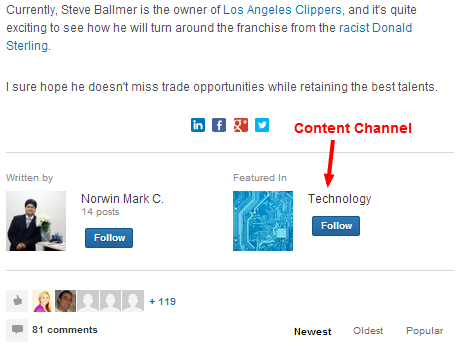 Then view the channels on the right column. View each channel of interest and see how many followers the channel has and what type of articles are getting featured. Getting featured on a channel can get you more targeted exposure.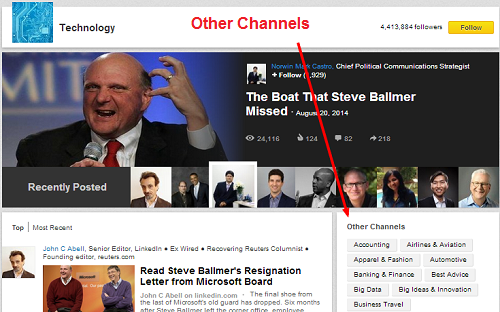 Or you can just visit this link – https://www.linkedin.com/today/channels
Suggestion: To do well on LinkedIn, try to write about popular topics like careers, business and self improvement (or the other topics mentioned above). If those topics aren't relevant to your niche, take a look at LinkedIn's content channels and pick a topic that fits your channel of choice.
2. Types of Post
What formats do people use when writing blog posts on LinkedIn? 64% of posts were just standard blog posts and 27% were list posts. A few posts used stories, attempted humor or presented tips.
Suggestion: People used a variety of formats that performed well and list posts seemed fairly popular.Use whatever format you want to convey your message and focus on content quality.
3. Images
Are images important for LinkedIn posts? Only 8.67% of posts featured on the Pulse did not have an image.
Over 70% of posts contained stock images or images that were republished from other websites. Some people also used personal photos, screenshots, quotes and illustrations.
Images are shown for posts that are in the Pulse, shown on content channels, on people's home feeds and on your main article page. So a compelling image could also potentially increase article clicks and views.
Suggestion: Most top publishers use images in their post, so be sure to at least include a stock photo in yours. The first image in your post will become the featured image. Try to pick a compelling image that will make people want to click through and read your article.
4. Influencers
Do influencers have an advantage when it comes to publishing on LinkedIn? It's impossible to say for sure, but 29.7% of posts featured in this study were from influencers, while 70.3% were not.
Note that LinkedIn decides who gets labeled an influencer. I have seen some non-influencers with over 20,000 followers. The Pulse appears to feature a good mix of influencer and non-influencer content.
Suggestion: Although influencers are often featured on the Pulse, non-influencers can also do well. So even if you are not an influencer, give it a try.
5. Link to Site
Are writers linking out to their websites? As a digital marketer, I of course took the initiative to do so and some people from LinkedIn did in fact visit my website.
37.7% of writers are also linking out to their websites, although most are linking to their home page rather than an email squeeze page. 13.33% are linking out to other sites, like social media sites or their books on Amazon.
49% of writers aren't linking out to their own properties at all.
Suggestion: If you are writing on LinkedIn, take the opportunity to drive some of that traffic to your website. LinkedIn has generated a significant increase in website visitors and subscribers to my site.
6. Follower Count
How many followers do people have when they get featured on the Pulse? Are followers important?
56% of writers that got featured on the Pulse had 2,500 followers or more, while 44% had under 2,500. 20% had under 1,000 and only 4% had under 500.
Having followers is helpful because it increases the number of people that can potentially view your post. But even people with a low follower count can do well if they write on a really compelling topic.
Suggestion: Even if you don't have a large following, you can still do well so go ahead and write. But try to increase your followers by networking with new people and participating in groups.
7. Post Length
Many studies have been done to show that longer blog posts perform better than shorter blog posts when it comes to traffic, social shares and links. However, LinkedIn recommends writing shorter posts more often. Who's right and how long should are posts be?
From my 300 article sample set, only 23.7% were over 1,000 words and 76.3% were under 1,000 words. A full 18.7% of posts were under 500 words.
While most posts were short, there were also some long posts that did well. So it may be a good idea to test out both long and short posts to see which works best with your followers.
Suggestion: Test both long and short posts to see what works best with your followers, but start by trying out shorter posts. Unlike with blogging where longer posts typically perform better, short posts can do well on LinkedIn.
8. Social Shares
How many social shares do Pulse featured articles get? Social shares do of course vary depending on topic and other factors, but on average, Pulse featured articles got 1,843 social shares.
About 10% of posts received less than 500 social shares and 33% received under 1,000. So a full 67% of posts got over 1,000 social shares.
Social sharing did seem to decrease on average on the weekend. I believe that is due to the fact that most top writers write during the week as well as people not being on LinkedIn and Twitter as much during the weekend.
Suggestion: Getting featured on the Pulse can get you a good amount of exposure and social shares for your post.
9. First Time Writers
Can first time writers with only a small following do well? The answer is yes.
16.3% of writers that got featured on the Pulse had just written their first article. A full 33.3% had written 5 articles or less.
Suggestion: Even if you haven't written a post before, a well written post and headline can get featured on the Pulse, even if it's your first article.
10. Best Day to Write
I've seen a few people suggest that there are best days to write or that weekends are a bad time to publish. I tried it once myself and I think that it's true that your post could get less views if you publish on the weekends, but I'd like to propose another viewpoint…
Although many people may take the weekend to relax and take a break from LinkedIn, LinkedIn's population is huge and there are still a lot of active people on the weekends. Perhaps even people who normally don't have time to get on during the week.
Posts do get less social shares on the weekends on average, but competition from other writers is probably lower too. Publishing during the weekend could be a great opportunity to get noticed while influencers are taking time off.
Here are some posts that were published on Saturday that got lots of views. I also filtered out people with large followings to show that a good post published on the weekend can still do extremely well:
How to Handle Your Coward Boss (https://www.linkedin.com/today/post/article/20140614162619-11075081-six-tips-to-handle-your-coward-boss) – 18872 Views in 24 hours / 2260 Followers
5 Extraordinary Ways to Use the LinkedIn Blog (https://www.linkedin.com/today/post/article/20140614110901-114586884-5-extraordinary-ways-to-use-the-linkedin-blog) – 16200 Views in 24 Hours / 2409 Followers
The #1 Reason Managers Fail (https://www.linkedin.com/today/post/article/20140628010845-61216387-the-1-reason-why-managers-fail) – 18433 Views in 24 Hours / Only 402 Followers and First Time Publisher
All of these posts were published on Saturday and did just as well as high performing weekday posts. Views and followers shown were at the time that I discovered them on the Pulse and are higher now.
Suggestion: Experiment with publishing at different times, including the weekends. If you write an amazing post, it probably doesn't matter what day you publish it.
Other Tips
1. Focus on the Headline – LinkedIn didn't reveal much about how their publishing platform worked, until recently in this post on their blog. I suspect that human editors decide what content gets featured on channels since the writer doesn't select that information when publishing a post. Once it is channel featured, the article can get a good amount of traffic and it wouldn't surprise me if headline clicks were a metric that they look at.
2. Grow your followers – Although it is possible to do well with hardly any followers, growing your followers gives you a big advantage. Your post is displayed to people who follow you, which increases the chance that more people will click through and view your article.
3. Publish often – Your most engaged followers will likely be people that started following you after they read one of your articles, so publishing more often could get you more of those followers.
See also:
9 Lessons Learned (and Changes) from Publishing on LinkedIn – This is a follow up article that goes into changes on LinkedIn Pulse and some lessons learned from publishing on the platform.
LinkedIn is planning on opening up access to all members eventually. To sum it up, LinkedIn can be a great channel to get traffic and exposure to your blog, website or business. I've created a 16 page PDF report with the full details of this report and other supplemental information for anyone that is interested in publishing on LinkedIn. To download it, just visit this page here.