I've noticed quite a few bloggers doing 2014 reviews and I figured what better way to start of 2015 than to go over the successes of last year and plans going forward.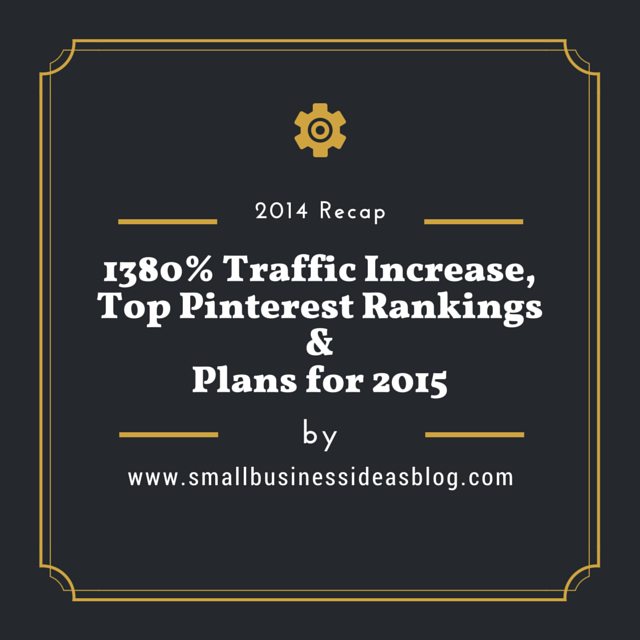 In 2014, I focused on sharing tips and tools that I use to do online marketing for my websites. I haven't talked a lot about my other businesses, so this will give me a chance to go over those a little bit.
Some big wins include an over 1300% increase in traffic to this blog, getting a number one ranking in Pinterest for my e-commerce account and getting a significant traffic increase for My Baby Shower Favors due to cleaning up some duplicate content and other onsite issues.
So here's a quick recap of some 2014 highlights as well as things to work on for 2015.
Small Business Ideas Blog
I started focusing on this blog a little bit more seriously in the second half of 2013 and in 2014, the traffic has continued to increase. In fact, website traffic is up over 10x from the previous year and search engine traffic is up 1400%.
Some of the top posts include the following:
How to Promote Your Blog Content: 40+ Experts Share Marketing Tips – http://www.smallbusinessideasblog.com/how-to-promote-your-blog
This post got over 4,500 social shares, which is more than most expert roundups. I'm happy that I was able to get so many well known experts to contribute some great tips to this roundup.
LinkedIn Publishing Study: How Top Writers Get Featured on the Pulse – http://www.smallbusinessideasblog.com/linkedin-publishing
I spent of lot of time this year studying LinkedIn publishing. LinkedIn's decision to open up the Pulse to everyone made it a hot new place for marketers to promote their businesses and grow their personal brands.
This post got over 2,400 social shares and covers 10 discoveries that I made on how people are getting featured on the Pulse on LinkedIn.
70+ Keyword Research Tool Alternatives to Google Keyword Planner – http://www.smallbusinessideasblog.com/keyword-research-tools
Google's decision to remove the Google Keyword Tool and replace it with Google Keyword Planner left a lot of online marketers disappointed. This post contains a large list of keyword research tools that people can use as an alternative to Google's keyword planner.
When I started researching keyword tools, I didn't expect to find this many. Some people have come up with some innovative tools that can help you with keyword research, one of the most important parts of SEO. This resource is one of the most popular posts on my blog to date and I plan to keep it updated as I find new tools.
On the down side, I realized that I haven't really focused heavily on the blog because it's not an income generating business right now. I've realized that for me to justify spending so much time on it, I would have to start to monetize the traffic to this blog.
I only did 10 posts on this blog in 2014 (plus 4 hidden posts as part of an experiment) and a handful of guest posts on other sites. Although I got my posts accepted on some pretty noteworthy blogs, I think it's about time I increase the amount of content I generate both on and off the blog. So in 2015, I am planning on increasing content production as well as experimenting with monetizing the blog.
My Baby Shower Favors
I haven't talked a lot about my e-commerce site and quite frankly it hasn't been a big focus for quite some time. Before 2011, My Baby Shower Favors enjoyed top rankings in Google and was even #1 or #2 for its main keyword.
SEO changed a lot after that and the amount of Google traffic declined sharply over the following couple of years. Rather than re-optimize it, I chose to focus on starting a web design business to diversify my marketing risk.
There were a couple of reasons for this decision. I didn't want to put all my eggs in the SEO basket again. I was relying too heavily on Google, so diversifying outside of Google seemed like a sensible thing to do.
Also, the niche is pretty small so I figured if I were to spend time doing an SEO campaign, I should target a more profitable niche instead.
Finally, if you look at the current search results for "baby shower favors", you will see that it is mostly dominated by big brands and established businesses that are generating 7-figures in sales. I see Walmart and Martha Stewart instead of the e-commerce stores run by small business owners that use to be there. A lot of people have complained about this and many smaller companies that were relying on SEO have even gone out of business.
However, a few things have made me start to consider shifting my attention back towards this business. First of all, everything is already set up, including the website, suppliers, and even a blog.
My Baby Shower Favors just had its 10 year anniversary and we just hit number one on Pinterest for the term "baby shower" for pinners. We're also #1 in Yahoo, Bing, Duck Duck Go and other search engines last time I checked.
While there's still a lot of work to do for Google, even our Google traffic is up sharply from a year ago, since cleaning up some duplicate content issues and other things. I wrote a guest post on the SEM Rush blog about what I did to make the site more Google friendly.

Mostly, I'm curious… is it possible for the little guy to beat out big brands in the search engines? Considering the growth of this blog, creating a content marketing strategy to improve awareness of the My Baby Shower Favors brand is something that might be worth experimenting with.
Web Developers Etc
For the past 4 years, I've been doing WordPress websites and taking a crack at freelancing type work. It seemed like one of the easiest ways to start a new business and make money right away since there's a good amount of demand.
Elance was where I went to get projects mostly and the good thing about Elance was that people posting jobs are ready to buy right now. The bad thing is that it can be really competitive and you don't have any information on the job posters until after you bid and start talking.
At one point, we did some aggressive bidding and landed about $10,000 in projects as a result in a single month. We've done websites mostly ranging from $700 to as high as $5,000 and strictly avoided clients wanting to pay $100 for a website.
I even had 3 full time employees at one point, but decided to scale down since the business model seemed to risky and unstable.
However, towards the end of this year, I started to burn out and get tired of constantly prospecting for new projects. I also noticed that this particular business doesn't align well with my other businesses.
In other words, my focus was divided between three separate unrelated businesses, which I feel is keeping me from making significant progress on any one business.
So I've been learning about outbound marketing as well as making plans on how to launch an agency with real employees. I've decided to shift the focus to digital marketing, which has a higher value and need that just web design.
We'll still be doing websites and graphic design, but I'll be adding digital and content marketing to the mix of services offered and focusing on promoting those services. That way, Web Developers Etc will align more closely with what I'm doing with my other businesses.
Plans for 2015
When I first started my own businesses, I hardly knew anything. I had just learned SEO through a training course and focused only on that.
Focusing on one thing made me efficient, so I've decided to better align my businesses and focus on one thing at a time.
So here are the plans for 2015. I hope you've had a great year and have your own ambitious plans for growing or starting your own business:
-Move more from freelance type projects to running a digital marketing agency with Web Developers Etc.
-Re-launch the My Baby Shower Favors blog and integrate Pinterest into our content marketing strategy
-Continue to grow Small Business Ideas Blog and monetize it. Although the traffic growth was good and my articles were well received, I didn't put out much content. So increasing content production both on and offsite should accelerate growth.