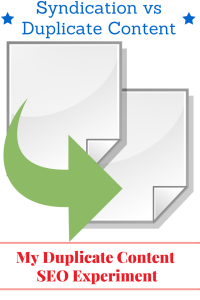 In recent years, a lot of SEO's have come to believe that offsite duplicate content can hurt your search engine rankings.
I'll admit that I was one of them and I think in some cases that it can.
But there are legitimate reasons for duplicate content, like syndicating your articles to higher traffic sites for more exposure.
While syndication can get your more traffic and exposure, it DOES create duplicate content on the web.
And when search engines rank content, they usually only show one copy of an article in the search results.
With updates in Google's algorithm that penalize off site duplicate content, a lot of SEO's avoid duplicating content like the plague.
Is syndication a good strategy? Or is it dangerous for SEO?
Let's take a closer look…
A Quick History of Duplicate Content
If you already know why duplicate content is bad, then you can skip to the next section.
Before 2011, off site duplicate content wasn't a big deal. SEO was different back then and nothing you did could really hurt your site's rankings unless you were using some blatant spamming techniques, like stuffing a lot of invisible keywords on your page to try to rank higher.
However, one of the problems that Google faced was low quality articles on low traffic websites that were created just for links to help with SEO.
People that wanted more links to their site would dump tons of low quality articles into article directories.
Other people looking for free content would take these articles and put them on their sites, creating hundreds or even thousands of pages in a short amount of time, resulting in free traffic that they could monetize with ads.
So in 2011, Google started rolling out some updates, called Panda, to combat low quality content on the web.
A lot of webmasters are now afraid that duplicate content off their site might hurt their search engine rankings.
Is duplicate content bad for SEO? While many people would say "yes", let's take a closer look…

Legitimate Reasons for Duplicate Content
Search engines don't want people creating duplicate content on low quality sites just to get a link to their own site.
But they also know that there are a couple of legitimate reasons that duplicate content exists.
1. Other people might steal your content
Sometimes unscrupulous webmasters will steal content from other websites and publish it on their own site.
By taking other people's content, they are hoping that they can get free traffic from search engines using other people's hard work.
There are steps that you can take to have this stolen content removed. For example, you can sign up for Copyscape and get alerted when someone copies an article from your website.
You can then send them an email asking them to delete the stolen article from their site. If they don't comply, you can file a DMCA notice.
But search engines know that a lot of webmasters won't bother to monitor the web for copied content.
Also, the most popular websites are the ones that often get copied the most. Although those sites have the most duplicate content, it doesn't appear to hurt their web page rankings.
One reason is that popular sites have more authority or trust in the eyes of Google, due to having more inbound links and real traffic.
2. Syndication
Another legitimate reason for duplicate content is syndication. In other words, sometimes it makes sense to copy your article to other high traffic sites for increased exposure.
Content syndication has existed long before SEO.
A few companies and bloggers that use syndication to get more exposure include Buffer, James Clear and Help Scout.
In fact, Buffer published a great post about how syndication helped them grow without hurting their search engine traffic.
Good vs Bad Duplicate Content
So when is duplicate content good and when is it bad?
Google's reason for cracking down on offsite duplicate content in the first place was to discourage people from creating low quality content just to get links back to their site.
So quite simply, don't create content on a site or blog just to get a link back to your site.
Instead be sure that the site has real human visitors and might be able to send real visitors back to your own site.
Syndicating content on a site that has more traffic than yours makes sense or any site that can send you traffic for that matter.
How to Find Out Where People are Syndicating Content
Finding out where other people are syndicating content is pretty easy. This exercise can give you a good list of places where you can syndicate your own content.
First, find a popular article on their site or a piece of content that they would likely syndicate.
Then copy a chunk of text from the article and search in Google. You should be able to see other sites that have that same article published.
Of course, you can also use a tool like Copyscape to find copies of the content.


My "Duplicate Content" experiment
In a recent article on their blog, Buffer stated that once you have high domain authority, you can most likely syndicate content safely.
I believe that your current "domain authority" may not even be important. In fact, there are plenty of cases that the syndicated article got more traffic on a higher authority site than the original site.
However, what is important is placing your content on sites that get actual human traffic and not syndicating content just to get links.
So to make my content go further, I plan on syndicating some of my own content on other sites.
I will link back to my own site in these articles so that the search engines know where the original copy is from.
And if the experiment backfires and search engine traffic goes down as a result, I can always delete the duplicates from the other sites.
Want to try syndication safely? Check up my follow up article – http://www.smallbusinessideasblog.com/syndicating-seo
So what do you think?  Is duplicate content dangerous? Or have SEO's overreacted to Google's updates?