When I launched my first e-commerce store in 2004, using SEO to get search engine traffic from Google was probably the easiest way to start making money with an online store. All I had to do was trade links with other related e-commerce stores and the search engines would send targeted traffic to my site.
A lot has changed since then… Google made it harder to get ranked and now you actually have to do real marketing. But Amazon opened up its doors to third party sellers and now just about anyone can start selling on Amazon.
The good thing is that if you want to sell on Amazon, you can get started for free and if you want to launch your own private label brand, an investment of $1,500 to $2,000 might be enough to get started. And once you get your product launched, it's often mostly passive income, which is great if you are working full time or have other obligations. You just have to monitor your sales and keep the product in stock.
But how do you find a good product to sell?
I did a good bit of research on Amazon not too long ago and one of the tools I kept hearing about was Jungle Scout, which is a tool designed to help find items that can sell well on Amazon. Jungle Scout offers a web app that lets users search a database of Amazon items for products to sell and a Chrome extension that allows users to display information about a page of products.
This review covers the web app and some of the drawbacks.
How to Use Jungle Scout to Find High Margin Products
Amazon will display an item's seller rank on each item. This number can be used to estimate how many units of that item are being sold each day.
A popular free tool that people use to estimate sales of an item is fbatoolkit.com. Simply find the item rank and the category and enter the number and it will give you the sales estimate.
For example, this knife has a Best Seller rank (BSR) of 511 in the Sports and Outdoor category: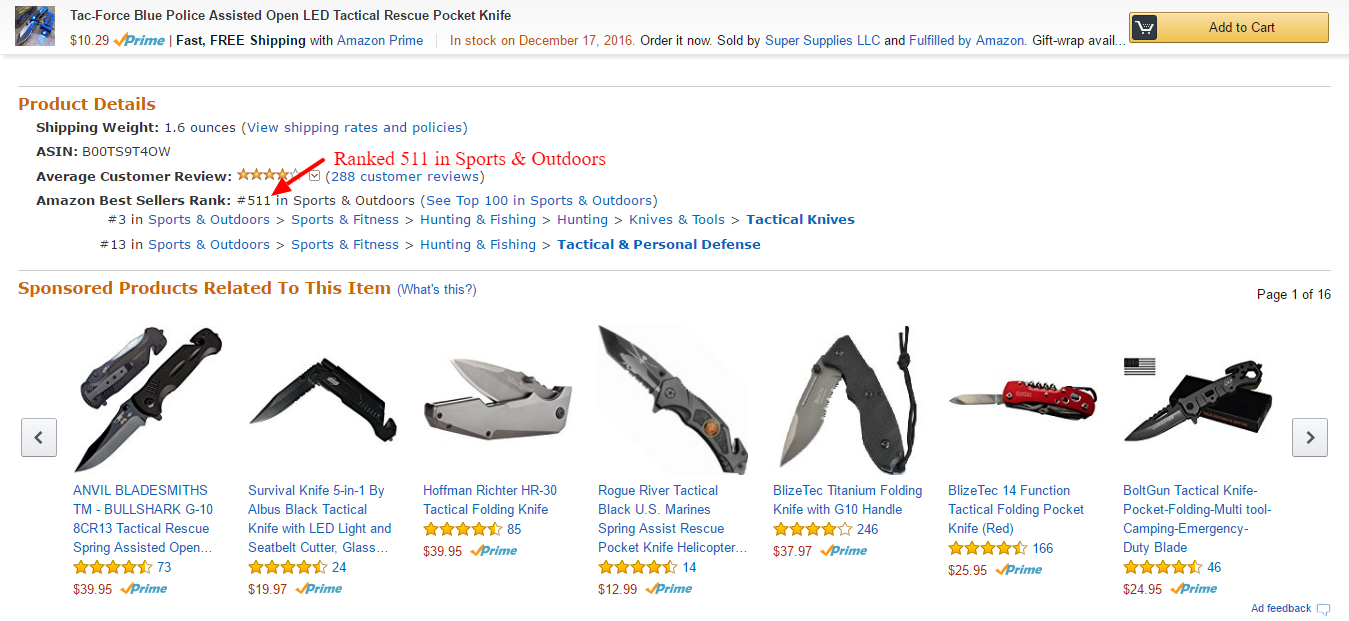 (click to enlarge)
FBA Toolkit estimates that this item sold 88 units a day on average over the past 30 days: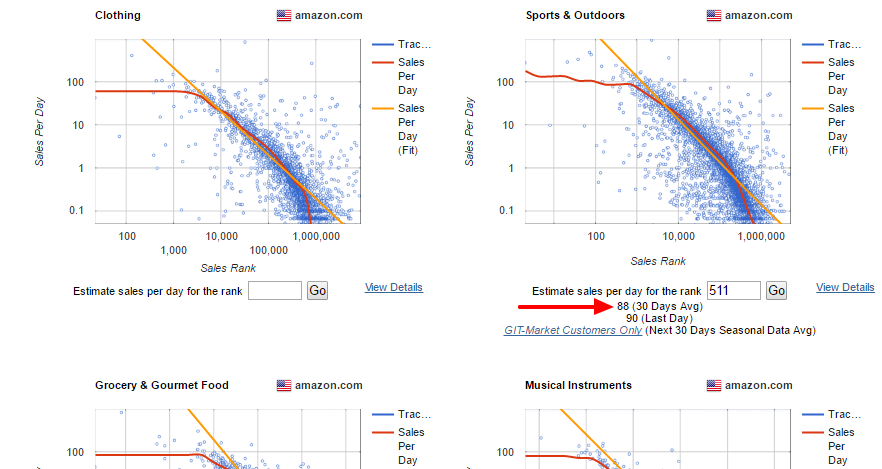 (click to enlarge)
With these numbers, we can estimate monthly sales:
88 (items sold per day) x 30 (days each month) x $10.29 (item price) = $27,165.60 (estimated monthly sales)
While FBA Toolkit is a great free tool, Jungle Scout's Product Tracker can help you verify if the sales estimate for a product is accurate (more on that later).
People who use Jungle Scout to find products to sell will use the web app to search through the database based on various criteria. The web app saves a lot of time compared to searching on Amazon manually.
The two main areas of the web app are the Product Database and Product Tracker, which I will be reviewing below.
The Chrome extension allows you to view product data on an Amazon search page so that you can quickly assess how competitive a product is. It is available for a one time cost and I may review the extension at a later date.
Startup, Standard and Business Plans – Which is best?
The difference between the startup and other plans is that the standard and business plans also give you access to the Niche Hunter and allow you to track more items. I saw some reviews on YouTube that said that the Niche Hunter wasn't very useful, so I decided to just sign up for the Startup plan.
The Startup plan has everything you need to search for a product to sell and you'll mostly be using the Product Database and Product Tracker anyways.
Product Database
With the product database, you can use Jungle Scout's filters to find Amazon items based on certain criteria.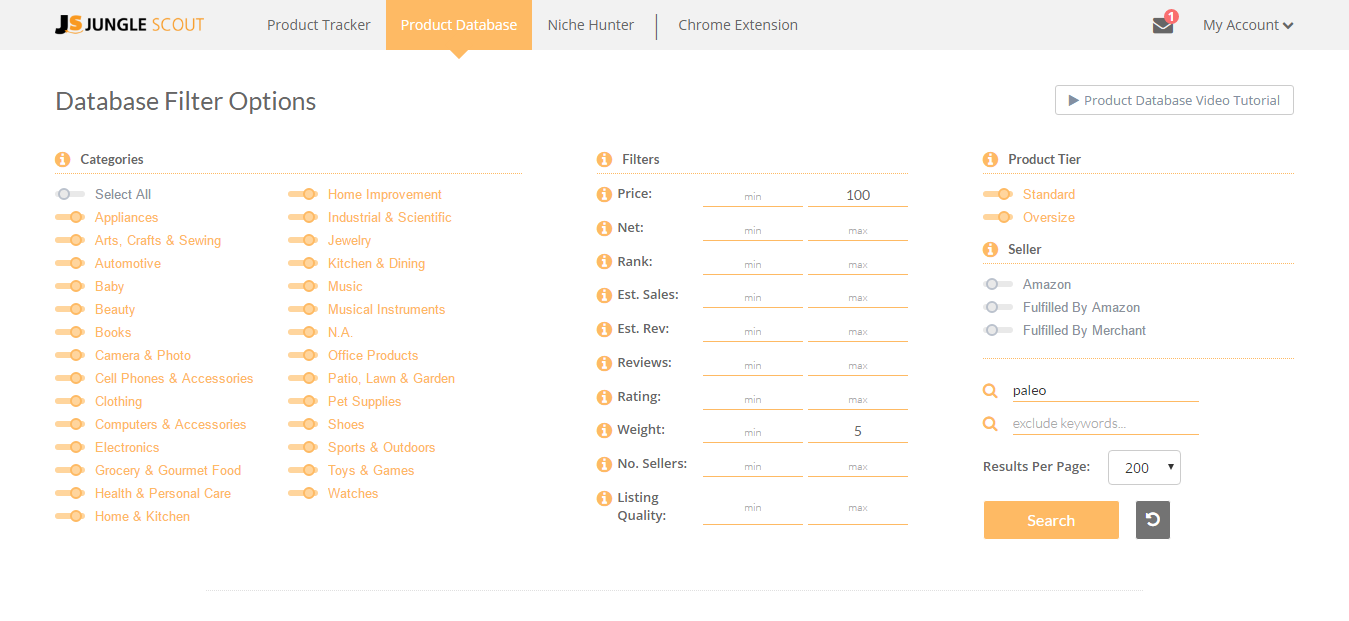 (click to enlarge)
Categories
You can select what categories to filter on. Perhaps you have a strong knowledge or interest in a particular category and want to search for items only on those categories.
As a beginner seller, you may want to avoid categories like electronics, as they have more parts that can break. Or you may want to deselect gated categories like Grocery & Gourmet Food.
In any case, you can select or de-select the categories that you want to search in.
Filters
Filters allow you to narrow your search by criteria like selling price, number of reviews, item weight and more.  Here are some commonly recommended settings.
Price – Many Amazon sellers recommend looking for items between $18 and $50 for new sellers. If you sell a lower priced item, then it will be harder to make a money because Amazon seller fees will cut into your profits and if you sell an expensive item, then it will usually be more costly for you to purchase.
Rank – You should also use either rank or estimated sales. For e-commerce, experts say that anything under 8,000-10,000 rank can sell well. If you are using estimated sales, you probably want something that sells at least 3 units a day. So 300 would be a good minimum number for estimated monthly sales.
Reviews – Some people like to filter on number of reviews. Items with less than 100 reviews represent an item with demand that you can still compete with. Some people like to only pursue items with less than 50 reviews.
Items with a lot of reviews can be very competitive and harder to get traction with on Amazon.
Rating – Sometimes a low rating can be an opportunity to beat your competitors by offering a better product. Filtering on items that sell well but have a low rating can be one way of finding profitable products.
Weight – For new sellers that are getting into private labeling, look for items that are under 2 pounds. Lighter items will have lower shipping costs. High shipping costs can reduce your profit margins.
Other – Some other factors that you can filter on are number of sellers and listing quality (a rating for how well optimized listings are for Amazon search).
Product Tier
Under product tier, you can select whether you want to display standard sized items, oversized items or both. I usually leave both of these selected so I can everything. But oversized items are often harder and more expensive to ship, so you can uncheck this option if you want.
Seller
For seller, you can select Amazon, fulfilled by Amazon and/or fulfilled by merchant. Some sellers don't like to compete directly with Amazon, so they can uncheck that box.
Keywords
You can enter keywords you want to search for as well as keywords you want excluded from your search results.
Product Tracker
The product database will give you some good preliminary results, but sometimes the sales estimate isn't entirely accurate. The product tracker is a good tool to track sales of products that you find interesting.
You can easily add items from the product database to the product tracker by clicking the "+" sign next to an item.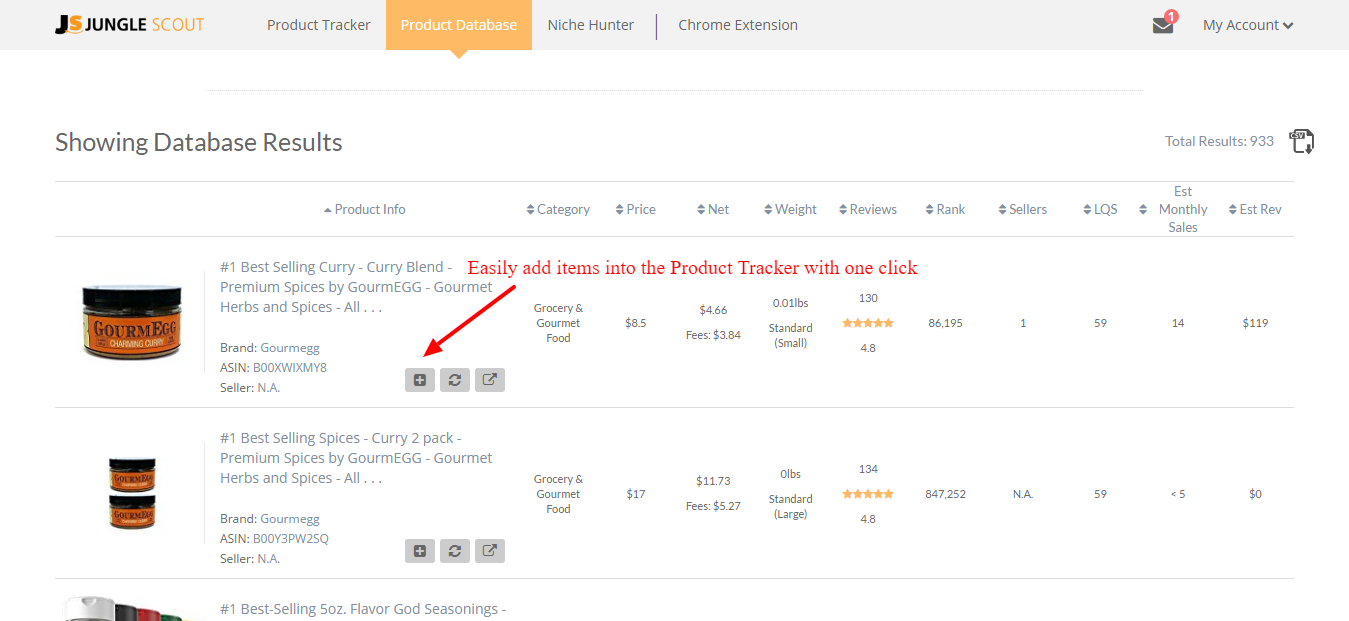 (click to enlarge)
Product tracker will track sales for that item and give you a more accurate idea of how well the product is selling. For example, here's a butterfly knife that currently has a sales rank of 13,017 in Sports and Outdoors.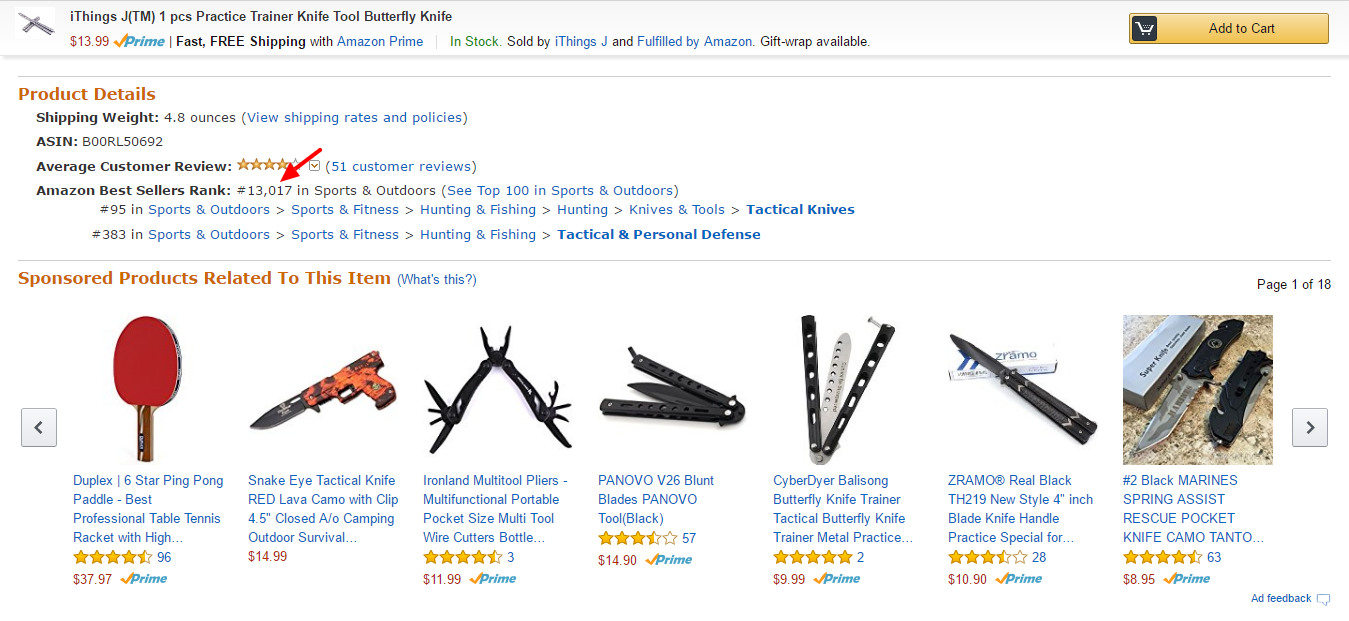 (click to enlarge)
According to FBA Toolkit, this item sells an average of 10 items per day.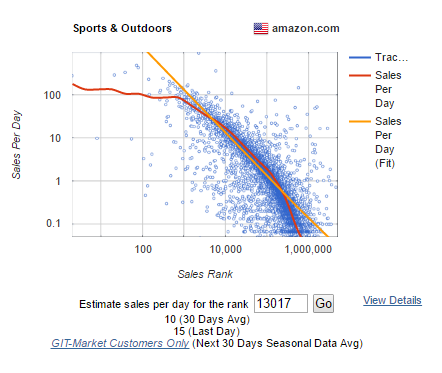 However, Product Tracker indicates that it sells about 7 a day. While the estimate is close, Product Tracker can give you a better idea of the sales volume: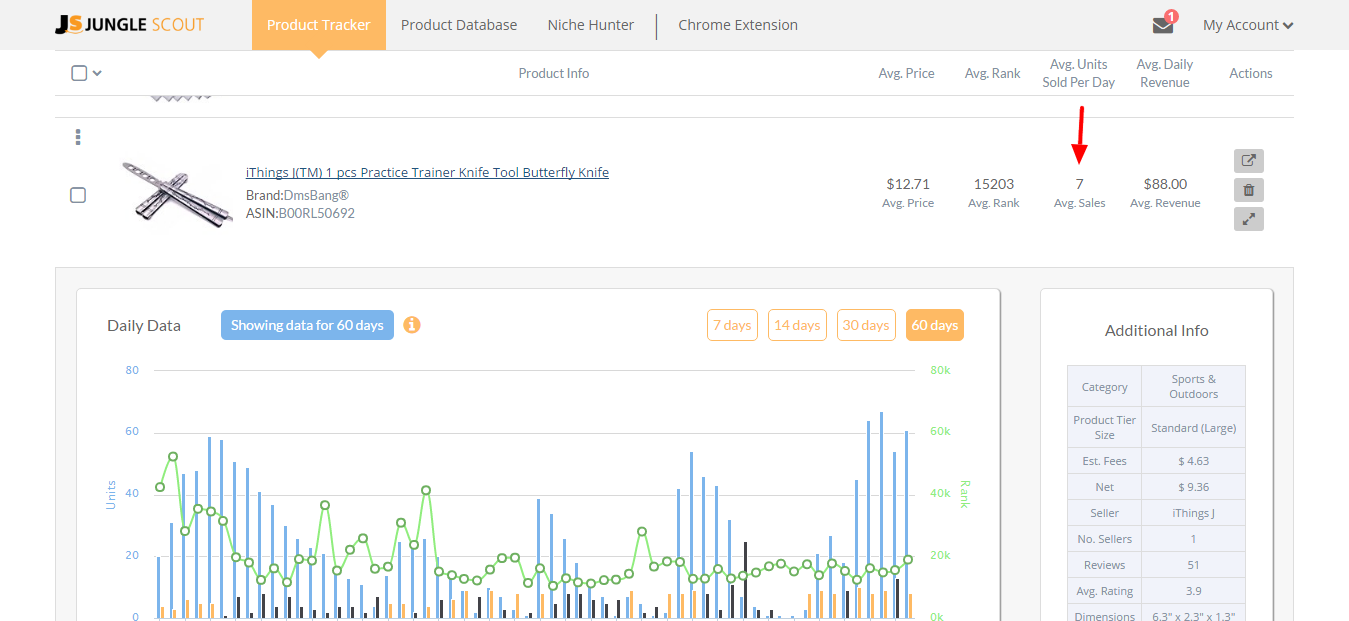 (click to enlarge)
You can also add items that you find on Amazon directly to the Product Tracker by entering the ASIN or URL. Amazon has a lot of items that aren't in Jungle Scout yet, but you can still track them and see how well they sell. If the item isn't in Product Tracker, then it will take a few days for Jungle Scout to gather sales data on it.
Here's an example of an item I added not too long ago. Notice that it only has data for a few days: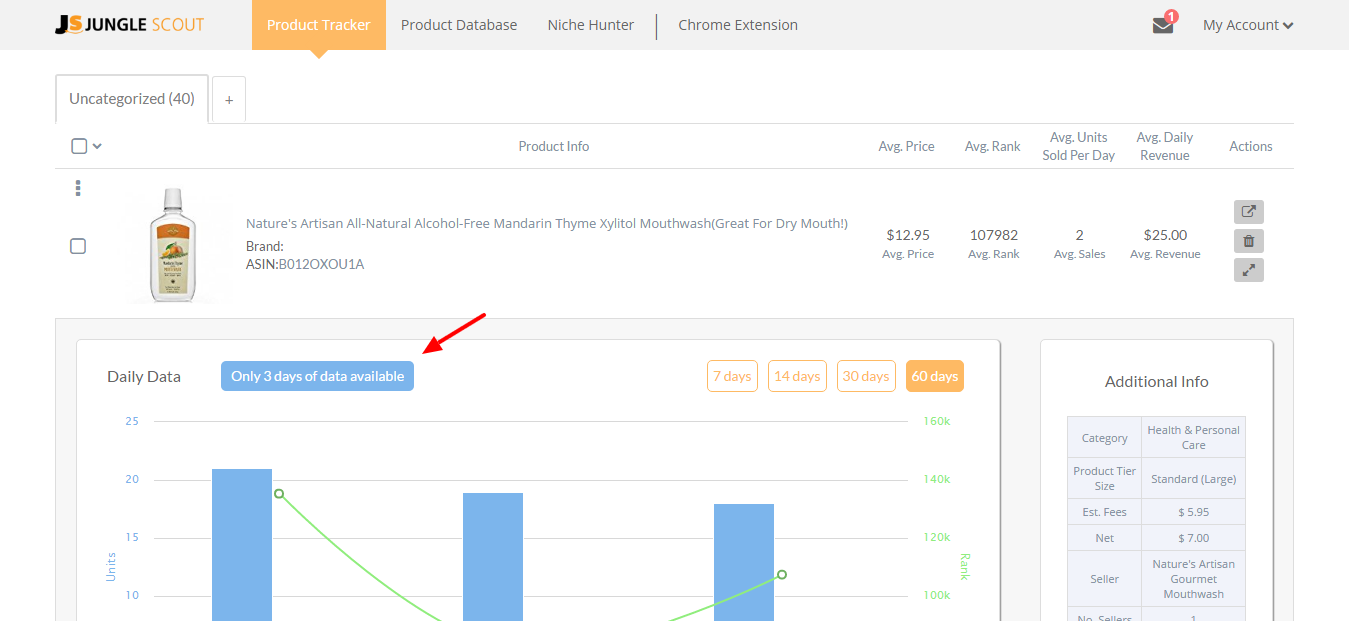 (click to enlarge)
Things to note
A few limitations to note regarding Jungle Scout…
The database doesn't cover everything on Amazon – It does have a lot of items in it and can be a great source of ideas, but you should still do some research directly on Amazon. Once you find an interesting product, you can add it to the Product Tracker, which will show you information on the product after it has collected it for a few days.Bottom line: Don't rely only on Jungle Scout's database to find items for you. Do some searching directly on Amazon to uncover more opportunities.
The sales estimate isn't always accurate – In fact, sometimes it can be off by a significant margin. If you find an interesting item, add it to the Product Tracker and let it collect data so you can get a better idea of what the actual sales volume is.
Books – Selling books is an entirely different game, so Jungle Scout isn't a tool you'll use if you are interested in selling new or used books, or launching your own book.
To sum it up, Jungle Scout looks like a good tool to use if you are thinking of doing competitive research for selling on Amazon.