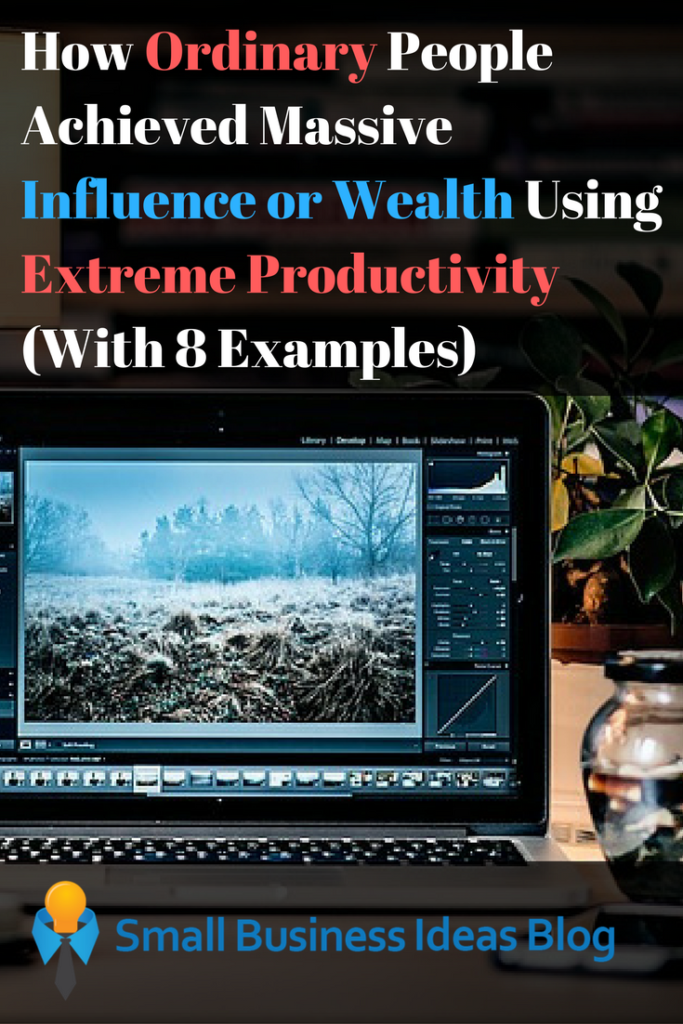 One of the most interesting things about successful people is that they come from different backgrounds and many don't seem to have much in common.
With all the information available about how to become successful, why do most people struggle and fail while only a few succeed?
How is it possible that people who are teens with no business experience have launched 7-figure businesses?
How do bloggers who are creating ordinary content get to the point that people call them "influencers"? And why do you seem to be getting less traction, even though your content is just as good or better?
What's the secret that the few influential and successful people have that everyone else is missing?
Through the years, I've come to realize that success is more heavily tied to execution than to knowledge. And people who have become really successful have done so by employing a methodology that I refer to as "extreme productivity"
How successful people get extraordinary results
Basically, extreme productivity works as follows:
Test out a tactic that others have used successfully.
Observe and measure your results. Tweak it to improve results as you go along.
Repeat it relentlessly until you get extreme results.
For many people, success is mostly a productivity problem and your goal as a marketer or business owner is to figure out how you can execute your marketing or sales efficiently enough to get extraordinary results. Here are a few examples of how ordinary people quickly grew their influence and/or wealth using extreme productivity.
1. Video marketing
Video is a great opportunity to engage your audience and form a deeper connection with them than with written content. Marketers who used video grew their revenue 49% faster than marketers who didn't use video.
Amy Schmittaeur is a well known video blogging and YouTube marketing expert who has grown her channel to over 70,000 followers and author of the best selling book, Vlogging like a Boss.
However, she didn't grow her following overnight. Her results are an accumulation of 6 years of consistent effort and over 770 videos, which is an average of 2-3 videos per week over that time period.
I also recommend that you go back and watch some of her earliest videos and compare them to the videos she does now. Results will improve over time as you get more practice and experience.
One fun example that I like to use is Max the cockatoo, who has grown to over 140,000 subscribers and generated over 65 million video views from over 1,200 videos. One thing that makes Max's channel unique is that his owner posts a video at least once a day consistently, whereas most other bird owners only post sporadically.
What most people do: Most people who try video marketing will put out a few videos, perhaps not get as many views as other influencers and then quit.
2. Guest blogging
Guest blogging is another tactic that works well, but you have to do a lot of it for it to be effective. Guest posting on authority sites creates name brand recognition as well as generating links for your site that can help with SEO. It's also one of the fastest ways to get in front of your target audience.
Buffer got their first 100,000 customers solely through guest blogging. Leo Widrich wrote 150 guest posts in a 9 month period, which averages out to 16-17 guest posts per month.
Julia McCoy is the founder of Express Writers, a content creation agency that has over 50 employees. From her profile on Search Engine Journal, you can see that she's written over 75 articles and counting just for SEJ.
I had the opportunity to interview Mark Samms from Ninja Outreach and he said that they set a goal to publish 10 guest posts per month. They've grown their revenue to over $600,000 a year as of October 2017 and are continuing to grow through blogging.
If you've been learning about online marketing for a while, then you've probably heard of Neil Patel. Neil has published over 300 guest posts on a variety of blogs and the exposure has made him one of the most recognizable names in online marketing.
To sum it up, to make guest blogging work for you, guest post consistently on other popular blogs.
Another tip: Go back and look at any influencer's first blog post and compare it to what they write now. Just like anything else, writing blog articles is a skill that people can improve over time.
What most people do: Most people will just do a few guest posts. Maybe they'll only get a handful of subscribers and decide that it's not working for them. Or maybe they won't spend enough time blogging to get good enough to write for good blogs in the first place.
3. Instagram
If you look for information on Instagram marketing, then you'll likely come across Foundr magazine, an online magazine featuring successful business owners. Foundr became known for Instagram marketing when they figured out how to use Instagram to drive traffic and customers to their site.
Foundr grew their Instagram account to over 1 million followers by posting inspirational quotes and similar content. By using tactics like shoutouts and publishing 4 posts per day, every day consistently, they were able to grow their account quickly.
The key to their success and rapid growth was frequency and consistency.
What most people do: Most people will get on Instagram, post a few images and get frustrated that they don't have many followers or that people aren't visiting their site from Instagram. Or they will find it difficult to maintain a consistent posting schedule or get bored and chase the next shiny opportunity.
4. LinkedIn Pulse
When LinkedIn first made their Pulse platform open to the public, it was a great opportunity to get exposure to LinkedIn's audience. Sometimes if you wrote a good article, it could get featured on the Pulse and get tons of exposure to LinkedIn's audience.
In fact, I saw some articles get over 100,000 views from people I hadn't heard of before.
But the real winners on LinkedIn's platform were people that published daily. Brian de Haaff, founder of Aha.io, published every day on LinkedIn during the early days and grew his following to over 240,000, exceeding many other people who had the "influencer" tag:
https://www.linkedin.com/in/bdehaaff/detail/recent-activity/posts/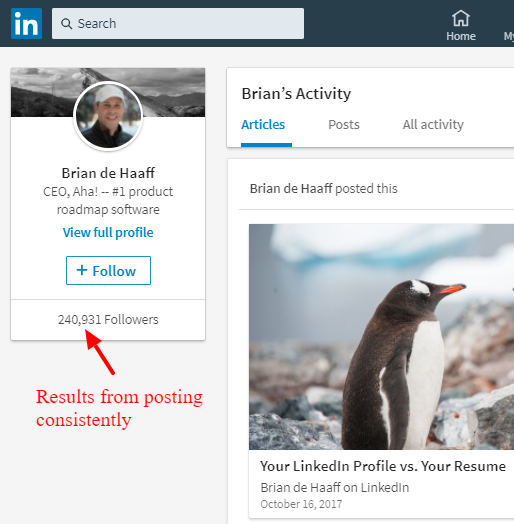 LinkedIn has since de-emphasized the Pulse, but his articles on the Aha.io blog still get hundreds of shares on LinkedIn.
What most people did: When I was studying the Pulse, I noticed that most people were very inconsistent about how often and when they wrote on LinkedIn. I saw one person who wrote two article that got over 100,000 shares, but then he never wrote anything after that. I also saw a blogger that wrote several articles that went viral, but then suddenly quit.
5. Pinterest
Pinterest is one of the fastest growing social media channels and has been a great source of traffic for many people in various niches.
Anna Bennett is a Pinterest marketing expert and has grown her following to over 50,000 followers. Her boards have over 10,000 pins.
Bill Gassett from Max Real Estate Exposure is one of the top realtors in all of New England and uses content marketing and social media to grow his business brand. He says that Pinterest is his top social media referrer and sends 5x more traffic than his second social media referrer.
I also experimented with Pinterest for one of my e-commerce sites and it hit over 1.7 million views in 2015. I just spent a few minutes each day pinning things and these results showed up after 2 years of casual but consistent effort.
What most people do: Most people try out Pinterest for a little bit and then quit. Pinterest is definitely a channel that becomes more effective over time and compounds as you grow.
6. Podcasting
Another great example of extreme productivity is John Lee Dumas, who came out of nowhere and quickly became the leading authority on podcasting. John decided to do a daily podcast, publishing a podcast interview episode every single day of the year.
What he did was schedule all of his interviews for the week on one day, so that he could spend the rest of the week doing other things for this business. Many of his interviews feature the same core set of questions.
By producing a new episode every day, he was able to grow his podcast faster than his competitors and dominate his market.
Another important thing to note is that he only made $26,000 for his entire first year of podcasting, according to his income report. But John knew he was on to something and as he continued to grow his podcast, he eventually turned it into a 7-figure business.
What most people do: Most people aren't consistent with podcasting and many would find it difficult to put out that many podcasts. Furthermore, most people would probably get discouraged with the lack of income during the early months of podcasting.
7.  SEO
If you're interested in SEO, then you've probably heard of Brian Dean and Robbie Richards. They both grew their blogs rapidly and became authorities in their niche by blogging once a month and spending the rest of the time promoting their content.
Robbie grew his own blog to over 1 million page views with just 25 blog posts. Two areas that he focused on are creating the highest quality content possible and doing lots of email outreach to promote his articles.
SEO and outreach tools can help automate and manage some of these tasks. By doing a lot of email outreach systematically, Brian and Robbie were able to get lots of links and drive tons of search engine traffic much faster than other bloggers.
What most people do: Most people don't spend enough time on content creation or promotion. Many people don't like doing email outreach because the response rates can be low and it can be tedious. SEO for content can be a big challenge because you have to be good at both creating content and doing efficient email outreach.
8. Business
Wilbur You started YouTech Associates with just $600 on hand, which he spent on incorporating his company in 2012. To get clients, Wilbur would cold call 100 companies a day to sell his web design services.
After two weeks, he had 2 clients for $500 a site and after 3 weeks, he had to stop making calls to do client work. Referrals started coming in after that and since then his company has grown to become the 9th ranked responsive web design firm in the nation and has clients paying up to $200,000 for their projects.
What most people do: Most people won't even try cold calling because they don't like the idea of doing it or they'll give up after trying it a few times and not getting great results.
To Sum It Up…
If you've gotten to the point where you feel like you aren't learning anything new from most blogs, then you probably already have the information you need to be successful. Most likely, you aren't executing on it well (or even at all).
Things that will make you quit (why most people screw this up)
Not getting extreme results early on – People see the results that other successful people are getting and want the same results faster. A lot of the strategies that work really well are long term.
Chasing the next bright shiny object (and not selectively ignoring some things) – It's very natural to chase other opportunities that seem better especially when what we are doing now seems to be working too slowly. However, most of the time, these new opportunities are just as challenging to master and take just as much time.
Getting discouraged by failure or lack of immediate results – Failure can take an emotional toll on people and some people will get discouraged and quit.
A few tips…
Stick with it for the long term – results may seem slow at first, but compound over time
Make sure you are creating value for people – marketing is not just about creating content. Rather focus on providing value for your target audience.
Everyone's looking for an easy button – instead, be one of the few people who are willing to put the time, work and resources into success and expect it to take longer than you want it to.