Bill was a gifted high school junior who was enrolled in the highest level classes. He was doing well in English class, but Bill wanted to focus more on computer programming instead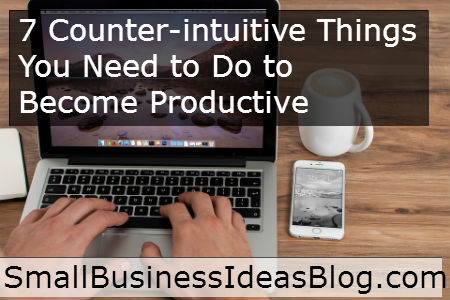 because that was the subject he enjoyed.
On parent-teacher day, Bill's mother had a discussion with his English teacher about whether Bill should take the AP class or go for the less challenging English class instead.
His English teacher was understanding of Bill's situation and to the mother's surprise, he suggested that perhaps taking the standard English class rather than the AP class might be a good idea for Bill.
While the English teacher's advice may seem unconventional, it makes sense. Although Bill was doing well in the class, English was not what he was interested in. Allowing Bill to take a lower level English class would give Bill more time to focus on computer programming and allow him to develop that skill.
Business owners often face similar challenges with productivity and many entrepreneurs often try to take on too many projects. Entrepreneurs are naturally ambitious and drawn to pursuing different projects, ideas and even new businesses.
But focusing on the right tasks is critical to being productive and achieving the highest level of success possible.
So how can entrepreneurs stay focused and productive? Here are a few suggestions:
1. Get a Business Partner or Coach
In school, students know what to focus on because teachers give them instruction, assignments and tests. At work, your boss and co-workers will often give you similar guidance.
One of the biggest challenges that entrepreneurs face is not having guidance from another person. As a result, some entrepreneurs will fail or struggle with productivity in their business.
A good coach or business partner can help an entrepreneur stay focused and productive. Some studies indicate that the ROI on executive coaching can be 529% or more.
2. Identify High ROI Activities, Low ROI Activities and Distractions
Before we can decide what to focus on, we need to first identify which activities provide a high ROI and which activities do not. We also need to become aware of distractions that are preventing us from being productive.
We can then focus more time on high ROI activities to yield more positive results while reducing or eliminating time spent on low ROI activities and distractions. Track how you are spending your time during the day and shift more time towards high ROI activities.
3. Just Say "No" to New Ideas
As an entrepreneur, new ideas will inevitably pop into your head, including new business ideas and new marketing tactics. We may be tempted to pursue these new ideas because we think these ideas will be easy to implement or because we think that we will get better results from them.
However, implementing a new business or marketing plan is often more difficult and time consuming than we initially anticipate.
Evaluate new ideas carefully before allowing them to distract you and analyze the time and resources required. Sometimes if we are too busy, simply saying "no" to new ideas can be a good way to stay productive.
4. Develop a Productive Routine
Being productive is the result of developing a predictable and healthy routine. Forming new habits is difficult at first. It requires mental energy from the decision making area of your brain initially.
But after some time, habits become more automatic and require significantly less mental energy. Once we identify high ROI activities, we need to get into the routine of doing them until they become habits.
5. Outsource Tasks that Drain Your Energy
Many people know that they should be focusing on high ROI activities, but a lot of entrepreneurs still struggle to actually focus on such tasks. One reason is that some tasks actually drain you of energy.
Bookkeeping is one example of a task that businesses have to do. But for me, it's a task that is boring and drains me of energy.
Identify the tasks that drain you of energy and outsource them so that you can focus on other tasks that energize you.
6. Set Specific Goals and Measure Progress
Making progress can motivate us to keep going. We need to set specific and measurable goals so that we know that our activities are productive.
We cannot control the outcome, but we can control the actions that we take.
Many people will set vague goals like "make as much money as possible for the business". Instead business owners should set more specific milestones, like increasing sales by 25% or increasing website traffic by 10,000 visitors per month.
We can then set specific actions to help us achieve our goals, like publish 10 blog posts a month. Measuring the impact of our actions can help us decide what tasks to focus on.
7. Take Scheduled Breaks
It would be nice if we could be productive throughout the entire day, but taking scheduled breaks is necessary for people to stay productive. A Cornell University study found that when workers were reminded to take short breaks, their work was 13% more accurate on average than co-workers that weren't reminded.
In the 1920's, Henry Ford studied the productivity of his factory workers and found that they were more productive when work hours were restricted to 8 hours a day. He also found that workers were equally as productive working 5 days a week as 6 days.
Spending less time working to get more done may seem counterintuitive. But our minds and bodies need time to recover and detach from work to remain at peak productivity.
Closing Thoughts
Many people think that failure to become successful is due to the lack of knowledge. But productivity is often the culprit. It's an ongoing process and with some effort and focus, entrepreneurs can improve their results steadily over time.
How do you achieve productivity in your work day?