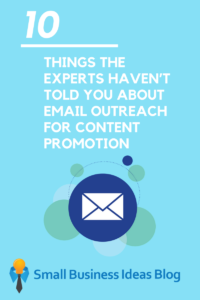 If you've been reading other online marketing blogs, then you have probably heard about how important it is to promote your content.
Experts also recommend using email outreach as a mean of promoting your content.
I've sent out hundreds of emails over the past few years to promote articles on my blogs and in this article, I'll share a few things I've learned that other experts don't usually mention when they talk about using email for content promotion.
1. Only use email to promote A+ content
So far, I've had 4 articles break past 1,000 social shares on Small Business Ideas Blog. But not every article I've written has done well.
I've found that the more an article stands out, the more likely it will get shared. And the success of an email outreach campaign will diminish significantly even if the article is really good, but not A+.
I know that everyone says that you should always write only A+ quality content. But in reality, that isn't always possible or even practical.
There is so much information available that even the best content producers and influencers can't produce standout content all the time. In fact, I can't think of a single blogger who's so compelling that I read every single article they write.
So what types of content are most likely to do well with email outreach? Here are a few ideas…
– Case studies – A real life example with proof can be compelling. Sometimes it takes months or years to achieve a result and most bloggers are just doing how to and list post articles without any proof that they've tried it.
– Innovative techniques or products – Unique solutions to problems that other people haven't heard of before can work well with email outreach.
– Breaking news or information – If you are one of the first people to learn about something in your industry, then breaking news can be a good opportunity for email outreach.
Example: My LinkedIn study got over 5,000 social shares as I released it when LinkedIn Pulse was still in closed beta. No one else had written anything like it before, so it was new information for the online marketing community.
– Unique resources – If you create a unique resource, then email outreach could be effective.
– Counterintuitive or controversial ideas that go against the flow
– Something you feel like the recipient can benefit from personally
When deciding if a piece of content is top quality, be honest with yourself. Is it really unique, ground breaking and/or useful to the person you're emailing?
Note that you might still get some results if your content is above average, but the ROI will diminish significantly. Groundbreaking content is more likely to get results when using an interruption technique like cold emailing.
2. Send out no more than 50 emails per day
I actually got one of my Gmail accounts temporarily locked not too long ago because I sent out too many emails too quickly. I did all the email finding first and then sent a bunch of emails all at once.
I sent out 96 emails on the first day and then 78 on the second day.
Gmail's sending limit is 500 per day, so sending a bunch of emails alone probably won't trigger anything, but it might trigger when combined with other factors like bounced emails.
Which lead me to my next point…
3. Validate your email list with a tool like Kickbox
Of the emails I sent, 3 bounced on the first day and 4 on the second day. That might not seem like much, but as a percentage of emails sent, it's pretty high.
An important thing to note is that email finding tools aren't 100% accurate. I created a big list of email finding tools here.
Once you have a list of email addresses, you should run them through an email validator to clean out any invalid emails and reduce your bounce rate.
Here are some tools you can use to do this quickly. They cost a little money, but it's worth it if you are going to send a large quantity of emails:
By the way, if someone's email is really hard to find, then don't waste too much time. If someone goes through a lot of trouble to hide their email, they probably don't want to be contacted and aren't likely to reply.
4. Use a Gmail account instead of your domain email
It's better to use a Gmail account than your domain email. With Gmail, you can also connect to other tools like HubSpot Sales and Streak which can help you manage your emails.
Also, some of the people you email will automatically add you to their email list, so it's nice to keep it separate from your domain email.
It's easier to manage things if you are using a separate email for outreach anyways.
5. Be aware of country specific laws regarding cold emails
Different countries have different laws regarding cold email outreach. Most of the people you'll email will come from a few countries, so a quick Google search should turn up information on the latest rules.
I'm not going to discuss this much here since it is a legal issue and is subject to change, so just do a quick Google search and use your own discretion.
6. Start with a smaller test outreach first to see how people react.
A small email outreach can be a good way to see how people respond to your content. If the response rate is really low, then you may want to either revise your content or abort your email promotion.
Even successful bloggers won't always know what articles will do well. So starting with a smaller email outreach can be a good test before investing more time.
You can also test the article by submitting it to communities where article submission is allowed like Google Plus, where people can upvote it. If it doesn't get many upvotes, then it might not be worth promoting by email.
7. Responses from company blogs will generally be lower than individuals
I would even say that the response rates from company blogs (that are selling something) are so low that they aren't generally worth bothering with.
Company bloggers usually have a different mindset than solo bloggers. They are writing articles as part of their job whereas a solo blogger might be more interested in building relationships.
Identifying and targeting specific and relevant people works better rather than the generic company email address. Generally, it's better if you can find the person who wrote the article.
Mentioning a company or blogger that you are reaching out to in your article will increase odds of getting a response as well.
8. Outreach will work better if you are already well known
People are more likely to reply to known influencers than total strangers. That doesn't mean that email outreach won't work for you, but being well known definitely helps.
Ideally, email outreach shouldn't be your only promotion tactic. Guest blogging can help and even marketing bloggers that promote email outreach heavily usually use other tactics to create general brand awareness as well, like participating in communities and social media.
Does this mean that you shouldn't do email outreach if you are just starting out? Not necessarily…
Many of the articles that did well on my blog were promoted before anyone knew who I was, including the LinkedIn article and keyword research tools post. So if your content really stands out, then it can still work.
9. Make sure there's some kind of context when doing email outreach
As my blog has grown, I have also been on the receiving end of email outreach. And unfortunately, a lot of emails I receive aren't related at all to what I write about.
There are two very simple things that you should do before emailing someone.
– Check out their about page or social profiles to learn a little bit about who they are.
– Give some type of context for why you think they would be interested in what you are sharing. For example, if they linked to or shared a similar resource, I will mention that in my email.
These steps will take a little more time, but will improve your odds of success.
10. Give back…
… because a relationship will serve you better in the long run than a link in the short run.
Just as an example, I did an outreach to Carol Rivera a couple of times and she linked to two of my articles on my blog. Later on, when I did my first expert roundup, I invited her to participate and even listed her at the top.
I've noticed that some of the people that link to me are also creating awesome content. So sometimes it's nice to help share their articles as well, especially if it relates to what you are writing about and is helpful to your own readers.
Bonus Tip: You actually don't need to do email outreach to promote your content, but….
A lot of people you don't reach out to may never see your content if you don't promote it.
Most bloggers actually grow by using other tactics like guest blogging, social media and building relationships with other bloggers. These tactics can take a little longer, but they work really well over the long term.