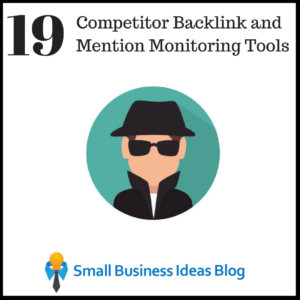 One of the biggest challenges for SEO professionals and social media marketers is getting links and social shares to their content. One way people find opportunities is to find competitors, discover which sites are linking to them and then asking those site owners to link to their site.
However, a shortcoming of this approach is that sometimes your competitors continue to get new links and social shares long after the article has been published. Being able to monitor those articles or domains for new links and social shares would help you to continuously gets links and shares to your own content, wouldn't it?
Fortunately, such tools exist. Here are a few tools that can help you monitor your competitors for new links, social shares and content.
Backlink Checkers and Monitoring
Link Alerts by Link Research Tools
http://www.linkresearchtools.com/tools/la
Cost: Starting at $169 / month
Link Alerts help you monitor backlinks to your site as well as to your competitor's site. It's like Google Alerts, except for links. They can crawl up to 24 different sources to discover new links. Link Alerts is part of their SEO suite, which starts at $169 / month.
Monitor Backlinks
Cost: Starting at $24.90 / month
If you're looking for a tool that alerts you whenever a competitor gets new backlinks or ranks for new keywords, then check out Monitor Backlinks. The lowest price plan starts at $24.90 and allows you to monitor your own domain and up to 2 competitors. Pricing increases if you want to monitor more competitors.
Linkody
Cost: Starting at $9.90 / month for 2 domains
Linkody automates the process of monitoring backlinks and alerts you to new and lost backlinks as well as competitor analysis. It allows you to instantly locate links on the source page and create custom reports. Daily reports tell you when you gain and lose backlinks and also when your competitors get new links.
AHrefs
Cost: Starting at $99 / month
Ahrefs is a serious SEO suite with many features, including keyword rank tracking, new and lost backlink alerts, web mention alerts and link intersect (find sites that link to your competitors but not to you). In 2015, they added a feature that alerts you when someone links to you or your competitor.
SE Ranking
https://seranking.com/backlink-checker.html
Cost: Starting at $4.20 / month for one domain
SE Ranking has a backlink checker built into its SEO suite. For each backlink, they provide information like date backlink was found, anchor text, social shares and more.
Link Prospector by Citation Labs
https://linkprospector.citationlabs.com
Cost: Paid version starting at $47 / month, Pay as you go plan available where you can try it out for $5
Link Prospector quickly finds lots of people for you to reach out to for links. Just type in your keywords and it will provide a list of relevant bloggers, journalists and website owners.
SEM Rush
https://www.semrush.com/features/domain-vs-domain/
Cost: Starting at $99.95 per month
SEM Rush is an SEO suite that has a domain vs domain feature that allows you to compare your domain against up to 5 competitors, as well as a brand monitoring feature. It will display common and unique keywords between the domains.
Brand Mentions
Google Alerts
Cost: Free
Google Alerts is a free service from Google that allows you to get email notifications when new content comes out for a phrase of your choice. It may not provide as many alerts as other services, but it is free.
Talkwalker
https://www.talkwalker.com/solutions/social-listening
Cost: Starting at $8,400 / year, Talkwalker Alerts is free
The Talkwalker social analytics suite allows brands to monitor brand mentions across different channels. One unique feature is that they can also track and detect images, which helps for discovering and reacting to images posted on social media.
Talkwalker Alerts is a free service similar to Google alerts, but can send more notifications. It also has features like hashtag tracking and social mention monitoring.
Mention.net
https://mention.com/en/media-monitoring/social-media-monitoring
Cost: Starting at $29 / month for 2 basic alerts
Mention monitors the web and social media for any mention of your brand or other keywords that you choose to track. Free to try and paid plans start at $29 / month, although you will likely want to go with the $99 / month plan if you want to also monitor your competitors.
Buzzsumo
Cost: Starting at $79 / month
Buzzsumo has a monitoring feature that can alert you whenever your favorite author or blog publishes new content. It also alerts you when there is a new link to your site or your competitor's site. Monitor competitors, set alerts for keywords and stay on top of trending content. Alerts can be sent in real time or daily digests.
Social Listening Tools
Hootsuite Insights
https://hootsuite.com/products/insights
Cost: Unknown, must contact their sales department
Hootsuite is most well known for their social media scheduling tool, but they also offer a product called Hootsuite Insights (formerly UberVu) that can monitor social conversations, brand mentions and trends. You can also set alerts to inform you when there is trending information regarding your brand.
Meltwater
https://www.meltwater.com/products/#monitor
Cost: Contact them for pricing, Starting at $6,000 according to this article.
Meltwater can monitor media mentions, conversations and trends over time and appears to be an enterprise level social media suite. It can gauge sentiment, display coverage by location, show trends in media exposure over time and show you who's writing about you the most as well as monitor competitors.
Sprout Social
http://sproutsocial.com/features/social-media-monitoring
Cost: Starting at $99 / month
Sprout Social is a social media management suite that allows you to view RSS feeds in one place, schedule posts to social media and produce reports. It also has a social listening feature that allows you to monitor hashtags, influencers, keywords and topics on social media.
Twilert
Cost: Starts at $9 / month for 5 alerts, Free trial available
Twilert can alert you any time your brand or competitor is mentioned on Twitter. You can receive alerts in real time or in a daily digest and you can also search your history for important tweets.
Tailwind App
Cost: Starting at $9.99 / month, free trial available
Tailwind alerts you when someone pins something from your domain. Tailwind also integrates with Instagram and allows post scheduling to both Instagram and Pinterest, although you still need to use your phone to complete the posting on Instagram. (contact them to see if they can monitor competitors).
Competitor Advertising Monitoring
Seeing where your competitors are advertising is a good way to identify high leverage paid opportunities. Here are a few useful tools to spy on your competitors' advertising.
What Runs Where
https://www.whatrunswhere.com/advertisers.php
Cost: Starting at $299 / month, $1 trial available
This tool allows you to see what ads your competitors are running and alerts you when they put up new ads. It also shows you what is working for them and what is not.
Ispionage
Cost: Starting at $29 / month
This tool tells you how much your competitors are spending on ads as well as their SEO and PPC keyword lists. You can also create your own private label reports if you are an agency with clients.
Spy Fu
Cost: Starting at $44 / month
Similar to Ispoinage, Spy Fu provides keyword data both from organic SEO and PPC. You can even track multiple competitors and see their overlapping keywords (keywords that they are all targeting).